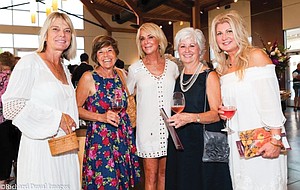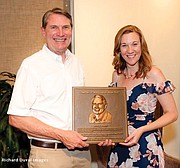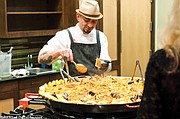 PROSSER — A Ste. Michelle Wine Estates vice president was inducted into the Washington Wine Hall of Fame during an Aug. 11 ceremony at Walter Clore Wine and Culinary Center.
The 11th annual gala saw Doug Gore inducted after his 25 years of "significant contribution to the industry," event organizers said, noting more than 300 people attended the event.
The gala included food prepared by Anthony's at Columbia Point, Budd's Broiler, Chateau Ste. Michelle's Chef Kurt Olsen, Chef Frank Magana, Castle Event Catering and CG Public House Catering.
Wine pairings were provided by Ste. Michelle Wine Estates.
With a new layout from past Legends galas, guests enjoyed a cocktail hour reception with entertainment by Kira Palm Trio, a formal program on the patio at sunset, and concluding entertainment by the Mel Peterson Collective, organizers said. The evening wrapped up with dessert from Layered Sweet Boutique, and beverages provided by Barracuda Coffee Company.
The gala was the most successful fundraising event for the Clore Center to date, officials said, adding that $105,000 was raised for programs benefitting and supporting the wine industry.
The center is already planning the 12th annual Legends gala, officials said, noting it will take place Aug. 10, 2018.
Nominations for the Legends of Washington Wine Hall of Fame will open later this year.