Thursday, August 24, 2017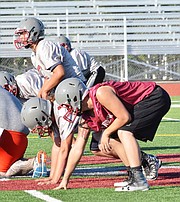 YAKIMA — One way for coaches and players alike to see if they are tough enough is to take on the challenge of a jamboree.
Prosser and Toppenish are being hosted by Davis on Saturday, while Grandview hosts Zillah and Naches on Friday in what promise to be two action-packed jamborees.
For football fans eager to see how their teams have prepared for the start of the 2017 campaign, the jamborees are a chance to catch a glimpse at the conditioning and hard work.
The jamboree at Rich Leenhouts Stadium is 7 p.m. Friday.
Grandview coach Rick Ramos said he is eager to see how well his team works together in a competition setting. The team has been working with a number of new coaches, learning new offensive and defensive plays.
The Leopards are also looking forward to the jamboree. Athletic Director Rock Winters said it will be a good chance to see what the new team, under new head coach Ron Rood, can do.
"We are excited about the football season," Winters said.
"We did graduate a big class and have a young, talented group," he said.
The Mustangs take part in the Davis jamboree, which begins with freshmen and JV players on Zaepfel Stadium's field at 10 a.m.
"It will be one way east, one way west," Pirates Athletic Director Bob Stanley said.
Varsity teams compete at 11 a.m.
"It's a good opportunity to play someone else," Prosser coach Corey Ingvalson said.
There will be a few plays and sets, as well as a chance to see the team in action before the start of the season, he said.
"You're never gonna complain about an opportunity to get film," Ingvalson said.