Thursday, August 24, 2017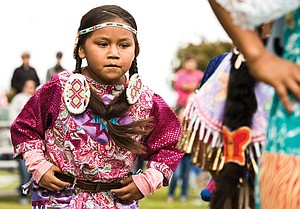 TOPPENISH — Since helping organize the first All Nation Student Pow Wow at Heritage University last year, Jacob Billy found himself immersed in the pageantry during Native American drumming and dancing.
"I'm a much better dancer than drummer," the May 2017 Heritage University graduate said.
Billy said as a singer, "…it's hard to hit some of the higher registers in some of the songs."
Nonetheless, he will be adding his dancing skills to the contests, which will be featured at the second student-led pow wow on the college campus, 3240 Fort Road.
The gates open at 10 a.m., with the grand entry set to begin at 1 p.m., Billy said.
The event will run all day and the last dances conclude at about 5 p.m.
Drummers from all over the Northwest are expected to be at the free event.
"We may have as many as 100 dancers – of all ages — from tiny tots to elders," Billy said.
The event was organized under the leadership of the university's fledgling chapter of American Indian Business Leaders. Drummers, such as Five Eagles, will be performing, as will White Wolf and Northwest Medicine Horse.
The host drummers are Wild Rose of the Yakima Valley.
The event runs from 1-5 p.m.
Billy said there will be plenty of parking for those wishing to attend.
POW WOW AGENDA
Starting at 1 p.m.
• Grass Dancers — blessing of the pow wow grounds
• Opening prayer by Arlen Washines
• The introduction of the Color Guard
• Heritage University Welcome by Dr. Andrew Sund
• Jingle Dressers of pow wow circle — traditional slide song.
• Honor dance for Dr. Sund and presentation of gift featuring the Owl Dance.
Intertribal:
• Golden Age contests (55 and older)
• Intertribal song
• Tiny tots Contests (five and under)
• Stand Strong Special — Sponsored by the HU Garrett Lee Smith Suicide Prevention grant
Followed by:
Boys 17 and under
Girls 17 and under
Juniors contests (6‐12, boys and girls)
• Social dance /Round Dance — Recognition of the heritage alumni, students
• Teen contest (13‐17 boys and girls)
• Russell Jim Scholarship Blanket Dance
• Adult categories (18‐54 men and women)
• Exit of colors
• Presentation of the winners by event leadership
• 6 p.m. Hosted dinner.