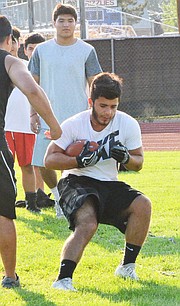 The boys of fall are back and working hard on the gridiron.
The start of football practice for high school teams throughout the Yakima Valley started Wednesday.
Coaches in Sunnyside — Sunnyside High School and Sunnyside Christian High School — are working to build upon last season's success.
Grizzlies coach John Lobbestael is seeking a return to the state playoffs. He would be appreciative of a Columbia Basin Big Nine League title, as well.
"The focus of the season is a good start," he said, noting the team's first game is 7 p.m. at Cheney High School on Sept. 1. The first home game is Sept. 29 against Davis.
Knights coach Jeremy Thomas' team surprised a lot of people, earning third in the 1B state playoffs last season.
Ultimately, his team would love to have a state title in this ninth year of the program.
"We have to focus on one game at a time," Thomas said.
Sunnyside Christian is still waiting to see if its first game will be Aug. 31 against Almira-Coulee-Hartline on the Granger High School field or if they have to wait until Sept. 8 for the game at Joseph, Ore.
Several key players for each of the teams return this season, giving the coaches a lot of hope for the outcome of the season.
Grandview, too, is looking at the return of several key players, including quarterback Rocco Parrish.
Coach Rick Ramos said he's set a goal of winning the academic state championship and having a better record than last year's 4-6 overall.
With the Central Washington Athletic Conference divided into a north and south division, Ramos said it's possible to have a better season since the team opens it with a 7 p.m. game at Kiona-Benton Sept. 1. The following Friday, the Greyhounds host River View at 7 p.m.
Prosser, too, has a few familiar names on its roster this season. Kord Tuttle returns as running back, having put up 54 carries for 379 yards and 4 touchdowns.
Although the Mustangs ended the season much sooner than they wanted with an 8-3 record after a 14-13 loss to Pullman in the state playoffs, they are still a force to reckon with.
Prosser joins Grandview in the south division of the Central Washington Athletic Conference, starting its season at Lampson Stadium against Kennewick. Kick-off is 7 p.m. Sept. 1.
Mabton has nine seniors on its roster and is counting on the leadership of coach Pat "Boogie" Zavala to propel it to the state playoffs again.
The seniors are stepping up to lead the team in the wake of losing the likes of running back Rocky Arriaga and suffering the recent death of one of its own — Marco Fuentes.
Max Ruiz, one of last year's running backs and captains, returns. He had 626 rushing yards on 115 carries and a total of 10 TDs last season.
The team lost its last game of the 2016 season 30-13 in the postseason against Pel Ell. Its overall record was 5-7.
The Vikings travel to Granger for a 7 p.m. game Sept. 1.
The Spartans, led by coach Gary Ely, are looking to quarterback Trennen Slade to fill the slot left by his older brother, Jake Slade.
There are several strong athletes on the team, serving as running back. Robert Berger returns as a senior, and juniors Juan Arteaga and Tony Almaguer have also turned in numbers for the team.
Granger ended the 2016 campaign with a 6-4 record, losing its last game in the state playoffs against Connell, 56-0.
Ely and the Spartans are looking to advance further this year.
They start the season at home against Mabton on Sept. 1.