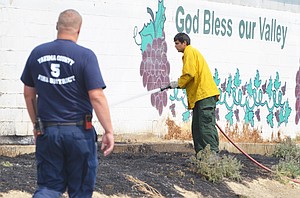 SUNNYSIDE — Just before 2 p.m. firefighters with Yakima County Fire District No. 5's Sunnyside station responded to a report of an out-of-control brush fire at Scoon and Van Belle roads.
Firefighters arrived at the scene to find the fire, which appeared to be the result of weed control attempts, was nearly extinguished.
A few hot spots remained and the fire abutted a building, potentially placing it in danger.
Firefighters remained to douse hot spots, and the side, as well as the roof, of the building to ensure there was no further danger to the structure.