Wednesday, August 9, 2017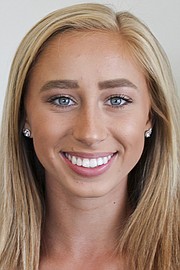 SUNNYSIDE — Being a high school sprinter and a cheerleader takes up a lot of this Miss Sunnyside candidate's time.
Her desire to represent her community as its goodwill ambassador has led the 16-year-old to toss her name into the candidate pool of 11 young women seeking the 2017-2018 Miss Sunnyside title.
The pageant is on Sept. 16 at the Sunnyside High School auditorium, 1801 E. Edison Ave.
"I've wanted to be Miss Sunnyside since I was a little girl," Frank said. "I remember the court coming to visit my preschool to read to us."
Frank said she thought it will be fun to learn more about her community, so, "…I decided to try it."
If chosen as the crown-holder, she will focus on nutrition and exercise for her community services program.
"I want to organize fun runs with elementary students. I'd like to help them learn confidence and how to be fit for life," Frank said. She would like to make it an afterschool program.
A Sunnyside High School junior, Frank has made a name for herself on the cheer squad and with the track and field team.
"The 400 and the relay are my favorite events," she said.
She also worked as a lifeguard at the city pool this summer and attended a week-long cheer camp.
During the school year, she is active in pep club and with Link Crew, an underclassman mentor program.
The daughter of Kim and Brian Frank, she is the one of four children – Trajen, Sammy, and Kaiden.
She will present a tumbling routine for the talent portion of the pageant.
"I took gymnastics for six years, she said.
She is being sponsored by Fashion Corner and Bon Vinos Bistro and Bakery, LLC.