Wednesday, August 2, 2017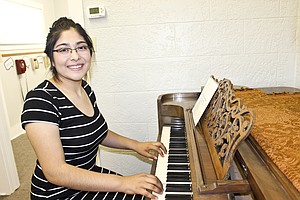 SUNNYSIDE — Jessica Estrada describes herself as shy, but she is pushing herself to break loose and become more outgoing this summer.
"When I heard about the deadline for signing up for Miss Sunnyside, I thought I could never do that," she said.
"Then I decided why not? So, I jumped right in." Estrada said.

Estrada, 16, is one of 11 Sunnyside High School juniors who will spend the next two months preparing for the 2017-2018 Miss Sunnyside Pageant on Sept. 16, at the Sunnyside High School auditorium, 1801 E. Edison Ave.
Meeting with her fellow candidates each Monday night since early June, Estrada has made a lot of connections with the other connections and it is those connections that she feels will help her in the future.
A community-minded and service-orientated, person, Estrada spends her spare time visiting her neighbors, helping them with odd jobs or just with friendly visits.
"This past winter with all of the snow, I helped my neighbors keep the sidewalks cleared," she said.
The daughter of Jose Estrada and Guillermina Ingues, she is the middle child. She has an older sister, Anna and a younger brother Leonardo.
She is active with Technology Student Association and high school math club. She also volunteers for the local VEX Robotics competitions.
If selected as Miss Sunnyside, she wants to work with elementary age students to encourage them to interact with the elderly. "Working with the elderly has helped me learn about compassion and a little history as well," she said.
For the talent portion of the Sept. 16 pageant, Estrada will perform "My Heart Will Go On," on the piano
She is sponsored by Upland Vineyard, Les Schwab, Pepe's Bakery, LA Super Bakery, Imperial Screen Printing and Family Beauty School.