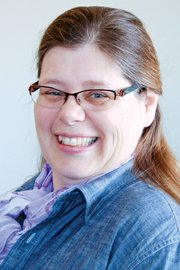 Age: 42.
Spouse: Nick.
Children: Veronica, Lizze, Sam.
Occupation and place of work: Domestic engineer/Jane of all domestic trades.
My favorite part of the Yakima Valley is… the diversity, fresh fruit and veggies.
When I was a child, I wanted to grow up to be... a writer.
First job I ever had was… babysitting.
If a movie was made of my life, the actor/actress I'd want to play me is... Miranda Hart.
The best gift I ever received was... a car, for Secretary's Day, no less!
The best piece of advice I ever received was... "Lady, calm down," said by my son.
My favorite dessert is... pumpkin pie.
One of my most memorable moments, besides getting married or having children was... the birth of my granddaughter, the amazing Andie Jo!
If I could witness any event past, present, or future, I would want to see... Alfred Hitchcock directing any of his masterpieces.
I'd love to learn how to... drive stick.
The furthest I have been away from home is when I went to... Philadelphia.
My favorite leisure activity or hobby is... shopping for hidden treasures at thrift stores.
If I didn't have to worry about money, I'd spend my time... traveling, traveling, traveling.
The one word that best describes me is... eclectic.
If I could change one thing about myself it would be... to have a more positive outlook toward the unknown.