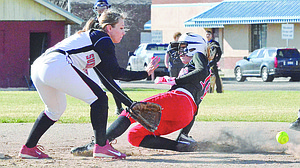 PREP FASTPITCH SOFTBALL
Sunnyside's bats were hotter, but Riverview's runners were able to capitalize on the Lady Grizzly fastpitch softball team's errors to win 9-3 last night.
Sunnyside was motivated to win. The batters connected with the ball on eight occasions.
Shawna Santini was 2-for-4 at the plate, and teammates Dalia Romo, Johanna Chumley, Monique Gill and Claudia Marchen were 1-for-3.
The top hitter for Sunnyside was pitcher Amber Cornwell, who connected with the ball two-of-three times with two RBIs.
She also had a season-high in the pitching circle, throwing for nine strikeouts.
"Her fastball and change-ups were really working," said Sunnyside Coach Ralph Mendoza.
He said the Lady Grizzlies are showing great improvement this season.
"We have been having little wins," said Mendoza, noting there are players who had little to no experience four years ago, but are now starters.
"This was a real good game," he said.
Riverview, however, was able to amass nine runs on six hits last night. The Panthers scored four runs in the opening inning, another four in the fifth and one in the seventh inning.
Sunnyside scored its first run in the first inning and another two in the third.
"They are working very hard in the field," said Mendoza.
He said the team is more vocal on the field and there are elements that are coming together that haven't been present in past seasons.
"I'm just really proud of them for believing in themselves," Mendoza said.
Sunnyside (1-4) will take a break before traveling to Eastmont on Tuesday, April 15.