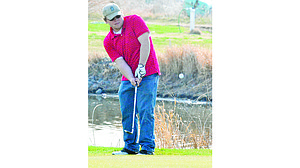 BOYS PREP GOLF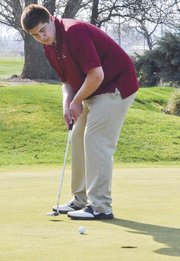 East Valley's Andrew Raab took home top individual honors from yesterday's Grandview High School Golf Invitational.
But it was Aaron Whalen, just a shot back of Raab at even-par 72, who powered the Ephrata Tigers to the team championship at the annual invite.
Monday's prep tournament at Black Rock Creek Golf Course drew 82 golfers from 20 different high schools.
Ephrata proved to be the class of the field, tallying an invite-low team score of 328. A squad from Hermiston, Ore. gave the Tigers a run for their money, though, finishing two strokes back at 330.
Zillah, behind Derrick Phelps' 7-over-par 79, claimed the top team finish from among the seven high schools representing the Lower Yakima Valley. The Leopards placed eighth overall with an aggregate score of 373.
Prosser, in ninth place with a score of 381, was led by Taylor Gant. He fired an 82 on front and back nine scores of 41-41.
The host Greyhounds, one of eight schools unable to field a full four-man squad, were represented by just one golfer – Matt Dailey. He toured Black Rock Creek's front nine with a 12-over 48, ballooning slightly after the turn to a back side 54 for an 18-hole round of 102.
Dailey's highlights included a one-under, three-hole stretch in which he birdied the par-5 third, then snared pars on the par-4 fourth and fifth holes. Dailey, too, played holes 7, 14 and 15 even.
The Sunnyside Grizzlies had two golfers entered in Monday's invite – Ethan Partch and Eli Romero.
Partch kept his round under 100, notching a 99 on front and back nine scores of 51-48. The lone par he made came on No. 8, a relatively short, slightly dogleg right par-4.
Romero posted a 120 (63-57). The best he could muster in his round was three bogeys.
In capturing medalist honors yesterday, Raab fired a 1-under 71. The East Valley golfer opened with a birdie-free, even-par 36. After making the clubhouse turn the Red Devil snared his first tweeter of the day on No. 11, a dogleg right, par-4 hole that most prepsters are happy to bogey. Raab gave the shot back by absorbing a 6 on No. 13, a straight-away, uneventful par-5 hole. But, he got his round back into red numbers with a birdie on the par-4, 16th. Raab closed out play with back-to-back pars.
Whalen, at even-par 72, had three birdies on his scorecard. All three came on the front nine, in which he carded a 2-under 34. The Ephrata golfer recorded seven pars on the back side, taking bogeys on holes 14 and 18.
Also shooting sub-80 rounds yesterday were LaSalle's Beau Wangler (38-39 – 77) and J. Martin (38-40 – 78), and Hermiston's Paden LaCoursiere (40-38 – 78).
Golfers with rounds of 85 or better included J.D. Thacker of Hermiston (80), Zach Dwyer of Ephrata (81), Avery Black of East Valley (81), Tyler Amoruso of Othello (81), Devan Boucher of Blaine (82), Anders Lind of Hermiston (83), Nathan Nulliner of Naches (83), Nick Baker of Cle Elum (84), Josh Johnson of Ephrata (85), Conner Haynes of Warden (85), and Selah's Vance Wood (85), Kalen Nettlenship (85) and Jamie Campos (85).
The official team standings from yesterday showed: 1st-Ephrata (328), 2nd-Hermiston (330), 3rd-Selah (341), 4th-Othello (355), 5th-LaSalle (356), 6th-East Valley (362), 7th-Cle Elum (366), 8th-Zillah (373), 9th-Prosser (381), 10th-Royal (388), 11th-Naches (425) and 12th-Warden (444).
The eight schools with incomplete squads were Blaine, Grandview, Mabton, Riverside Christian, Sunnyside, Toppenish, Wahluke and Wapato.