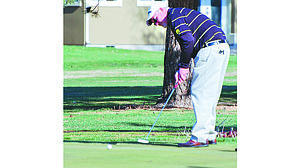 The duo of Gary Hutchins and Perry Page, members of the Yakima Elks Country Club in Selah, emerged as the top golfers in the opening tournament of the 2014 season on the two Lower Yakima Valley courses.
Sunnyside's Black Rock Creek Golf Course was last Saturday's venue for the two-person teams. Sunday, tournament play switched to Toppenish's Mt. Adams Country Club.
The March 22-23 tourney format featured nine holes each of scramble, best ball, Chapman and Scotch play.
Hutchins and Page tallied a tournament best, 9-under-par 135.
Two other teams finished within a single stroke of the winners. Carding 8-under-par rounds of 136 were the duos of Dusty Frontis/Lincoln White, also from the Yakima Elks; and Trini Madrigal/Andrew Schutt, who claim Black Rock Creek as their home course.
The three first flight teams that cashed in the net scoring column (actual score minus handicap) were Ron Eakin and Tony Whitley of Mt. Adams (125); Jason Eberle and Sean Tudor of Black Rock Creek (129.25); and Mike Chambers and Ken Hornstein of Mt. Adams (130).
The low scorers from the tournament's second flight of golfers included Vern Stephenson and Rich Wyer of Mt. Adams (158); Tye Barrett and Ron Harper of Mt. Adams (160); and Clarence Holford and Leonard Rabanal of Mt. Adams (161).
First through third-place net finishers in the second flight were Lucio Aguilar and Stu Williams of Mt. Adams (127.5); Greg Cannon and Ron Storkel of Mt. Adams (129); and Connie Besel and Dennis Besel of Mt. Adams (129.5).