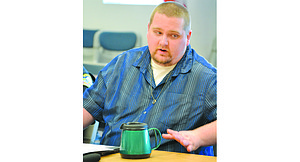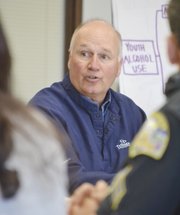 While united on discouraging teen alcohol and drug use, members of the Sunnyside United coalition are less so when it comes to whether the city should ban retail marijuana sales.
During a meeting yesterday, Thursday, the coalition reviewed a draft version of its stance on retail sales. The Sunnyside City Council will be discussing the issue in the near future and the planning commission has recommended approval of retail sales.
Reaching a consensus statement soon on marijuana sales is key for Sunnyside United because it has been asked to provide comment during the city council's public safety subcommittee meeting on April 7.
The draft talking points reviewed yesterday expressed concerns about increased availability of marijuana through retail sales, but did not advocate a ban.
That didn't sit well with Pastor Cameron Garcia of Oasis Community Church, which operates an outreach for at-risk youth called The Underground.
"From a youth standpoint, my concerns are that it's going to make it easier to get marijuana," Garcia told his colleagues on the coalition. "There's no sane reason why we shouldn't issue a position in support of a ban (on retail marijuana) in Sunnyside."
Garcia added, "Once we open that door, guys, we can't go back."
Another coalition member, Samantha Taylor, noted if retail sales are allowed in Sunnyside the vendor will be selected by the state through a lottery. She cautioned that Sunnyside would not have a say in who would obtain the retail license.
Francisco Guerrero, who manages the Sunnyside HAPO Credit Union branch, also sits on the coalition and serves on the Sunnyside City Council. He countered that retail marijuana businesses – just like alcohol and tobacco – are only legal for adults. Marijuana stores, he noted, aren't intended for teens.
Guerrero also suggested the city could open itself up to litigation if it tries to ban marijuana sales.
That threat already exists, as just last month a smoke shop owner in Grandview indicated he has support from the ACLU and his own legal counsel to take the cities to court if they ban retail marijuana.
The Sunnyside United coalition chair is Steve Carpenter, a former Sunnyside School Board member and CEO of Yakima Chief, a hop-growing and processing firm based in Sunnyside. Like Guerrero, he also was hesitant to support a ban yesterday.
"I don't have enough facts to say I support an all-out ban on retail sales," Carpenter told the coalition.
He cautioned against generalized arguments supporting a ban, such as a claim in the draft statement that drug cartels will compete for marijuana sales. Rather, he called not only for more data but also documenting sources.
At Carpenter's suggestion, coalition members agreed to hold a special luncheon meeting to iron out a position statement and official stance related to retail sales of marijuana in Sunnyside.
That meeting will be noon on Tuesday, April 1, at the Yakima Chief office in Sunnyside, 555 W. South Hill Rd.