Wednesday, March 12, 2014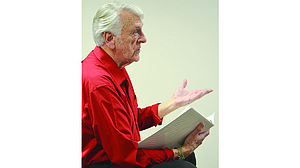 MABTON – Mabton has one of the highest rates of renter-occupied housing in the Yakima Valley, and the city needs to clamp down on tenants.
That's according to Larry Ashby of Sunnyside, who last night urged the Mabton City Council to adopt a crime-free rental housing program.
Addressing council during a study session Tuesday night, Ashby noted the turnaround in Sunnyside, a city he has called home for 30 years.
He said a few years ago the gang issue became particularly bad in Sunnyside, and that was facilitated by out-of-town landlords who rented to anyone, regardless of criminal activity.
"We thought gangs were a fact of life in Sunnyside," Ashby said. "Sunnyside got a reputation as a nasty place to live."
Ashby says things are much better in Sunnyside now. He credits part of that improvement to a crime-free rental housing ordinance the city enacted nearly four years ago.
"In three or four years they (gang members) have moved out of the city in droves," he said.
Ashby says the crime-free rental housing program provides landlords incentive and training by police to do a better job of weeding out applicants affiliated with criminal gangs.
The issue now, says Ashby, a substitute teacher in the Mabton School District, is that "gang bangers" are leaving Sunnyside only to set up residence in nearby communities like Mabton.
Ashby praised Mabton's efforts at addressing issues such as dog control by consulting with what neighboring cities are doing to deal with the problem.
He encouraged council to take the same approach to the crime-free housing program in using Sunnyside's ordinance as a template.
Council members were open to the idea, and Mayor Mario Martinez said the city would consider the ordinance in the future.
Jamie Carmody is Mabton's city attorney, and he expressed some hesitance due to potential civil rights issues. He wants to take a closer look at Sunnyside's ordinance in preparation for council's review of the housing measure.
Mabton Police Chief Rick Gutierrez supports the crime-free rental housing program.
He says cities and law enforcement networking together can make it tough for gang members to make a home in the Lower Valley.
"Sooner or later they won't be able to rent a dog house," Gutierrez said.