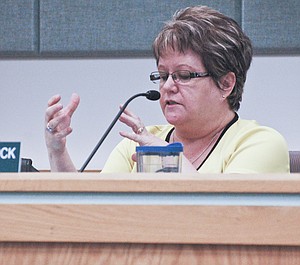 The Sunnyside City Council decided last night to provide $30,000 in funding to Merit Resources Services and FIRME Outreach to provide gang resistance counseling to youth.
The decision was not made without argument. Councilman Jason Raines suggested that the money would be better spent on prevention.
"We're contemplating spending up to $30,000 additional dollars for, I'm just going to say it, some bad kids," he said. "Looking at this, we believe we could get two, three, four kids out of gangs, potentially, doing this. I'd also be interested in what we can do for the good kids."
Raines asked City Manager Don Day if the city can provide comparable funds for parks and recreation and preventive programs.
"Yes we do," said Day. "I'm not sure how deep you want me to go, but we are committed to spending money on parks and recreation, as well as a number of other items to improve the quality of life in the entire community."
Day pointed out that a recreation coordinator was hired last year and programs are being planned for the coming months. He assured Raines that at least an equivalent amount will be spent on parks and recreation.
Councilman Dean Broersma asked if there is a way to tie the intervention funding to similar amounts of funding for parks and recreation. In short, he wanted to know if the city could guarantee that if $30,000 is spent on intervention that $30,000 would also go into prevention programs such as parks and recreation.
Day answered that it would depend on how tightly the council wants to tie his hands.
"We've got money to spend on parks and recreation," he said, listing off the funding sources.
"Our budget for parks and recreation right now sits at four hundred and something thousand dollars," he said. "We are in the beginning stages, we are building this but I'm committed to it."
Raines suggested amending the resolution to require matching funds. He also said that intervention programs could not prove that they worked.
Councilwoman Theresa Hancock argued that intervention and prevention are apples and oranges. She suggested keeping the two separate.
Councilman Spencer Martin noted that the city had taken away parks and recreation programs a few years ago. Martin also said that a county commissioner had attended a council meeting and told the council that he has evidence to show that intervention programs are working and keeping children out of juvenile courts.
"No one is saying we're not going to do parks and rec," said Martin. "I think we need to move on with this, build our parks and rec back up and look at all three legs of the stool."
After further argument, the council decided to approve the funding as an amendment to a previous contract.