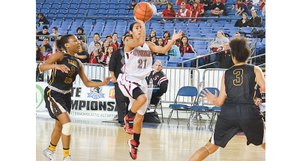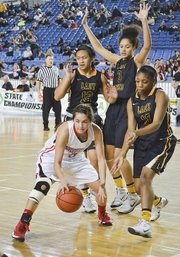 TACOMA - "We're a sisterhood! We did this for our school, our community and especially our parents!" Natalia Bazan gushed as she and her Lady Grizzly teammates stormed off the Tacoma Dome court last Saturday with a fourth-place trophy from the State 3A girls basketball tourney.
It's a sisterhood of 12 girls that left the rest of the state impressed wih Sunnyside's brand of controlled chaotic basketball. Their crowning achievement came Saturday with a blistering second half rally to knock off University 56-42 in the fourth/sixth place game.
University High School in Spokane, the only tourney team with a losing record, managed a 27-25 lead at the half over Sunnyside. Hampering the Lady Grizzlies further was miscommunication from tourney officials that brought Sunnyside back to the court too late to warm up for the second half.
Turned out the Lady Grizzlies were plenty warm already, on fire to be exact, as Sunnyside went on a 21-4 rampage in the third quarter to take control of the game. They turned the tide with defensive pressure to the tune of 12 steals and a renewed focus on pushing the ball inside.
"That was our best half of the season," said Coach Rick Puente.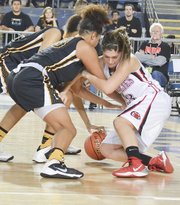 He said the key to his team's turnaround was rediscovering Sunnyside basketball. "Let's be us," he told the girls at halftime. "Go back to us. Us is being efficient. Us is out-working people."
Us is a sisterhood that needed all 12 girls to pull off the best season ever for Lady Grizzly basketball with the highest finish at State and the most wins in one season, 23.
For example, Sunnyside's leading scorer all season, Jordan Rodriguez, went from the points column to point guard in Saturday's finale. Rodriguez tallied just 7 points, but dished out three assists and hauled down four rebounds. "Their players were guarding me close. I could hear their bench yell 'Stop 23!' so I looked for my teammates," Rodriguez said.
Those teammates included Bazan, who like Rodriguez is a junior. Bazan averaged barely 8 points a game during the regular season, but on Saturday paced Sunnyside with a game-high 16 points and seven rebounds. Freshman Emilee Maldonado poured in 10 points and collected three rebounds on Saturday for Sunnyside.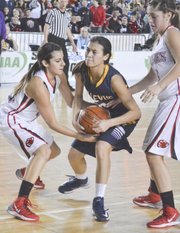 Junior Selena Rubalcava also came up big Saturday with 11 points for the Lady Griz. A defensive stalwart who picked University's pocket for three steals, Rubalcava came to Tacoma averaging 7 points per game.
For all the excitement and fireworks and hardware on Saturday, it almost didn't happen for the Sunnyside sisterhood.
That's because last Friday they had to get past pesky Lincoln High School of Tacoma in a loser-out consolation game. Sunnyside won that game by the deceptively large margin of 67-54.
Deceptive because throughout the contest Sunnyside built up double-digit leads over the Lady Abes, only to see them storm back to within a single bucket.
Each time, the Lady Abes were ably thwarted by timely Sunnyside scores. Those momentum-switching swishes most often were delivered by Bazan, who poured in a season-high 18 points.
Lincoln actually looked strong to start the game with two quick scores to go up 4-0. Sunnyside rallied with a 22-8 run to close out the quarter. Fifteen of Sunnyside's points in the opening frame were poured in by the combo of Rodriguez and Maldonado, who led all scorers with 19 points.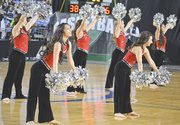 "We played our hearts out!" Maldonado smiled after Friday's win. "We didn't want to go home."
Rodriguez scored 14 points Friday to help make sure the Lady Griz stayed put in Tacoma. In the process she scored her 1,000th career point. She was also a warrior for Sunnyside in the paint with 13 rebounds.
The sisterhood needed all the help it could muster in the post Friday with Tiana Perez forced to sit after suffering what proved to be a knee injury on Thursday. The junior gamely started Saturday's trophy contest and played six minutes. "It felt better, but it still hurts," Perez said of her right knee, which may have suffered a miniscus tear or hyperextension during Thursday's opener against Bellevue.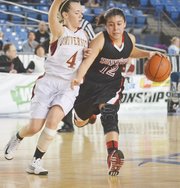 So, with their tallest player out, the sisters needed others to step up. "I told the reserves get ready for some extra minutes," Puente said. Among them was Summer Hazzard, a sophomore, who logged nine minutes on the court Friday in Perez's absence.
It was a good experience," Hazzard said of extra time on the State's big stage. "We just had to play hard and keep up the work."
That hard work paid off in spades for Sunnyside with the girls' first State tourney trophy since 1991.
Coaches and players were in tears Saturday celebrating an end to Sunnyside's hardware drought, but also bidding farewell to "super" senior Vanessa Alvarez, who tallied a combined 13 points and nine rebounds in the two victories.
"It's a roller coaster of emotions," said Puente, whose four years at the Lady Grizzly helm mirrors Alvarez's four years with the program. "It's sad with our senior leaving us. She drives us, she never lets us give up."
"It's a great way to go out," Alvarez said, clutching the fourth-place trophy.
Alvarez said goodbye to her coach in the Tacoma Dome tunnel Saturday, reaching out to hand him the trophy. Puente smiled and shook his head. "Nah, you hold on to it for awhile."
Besides that trophy, the sisterhood has a season of memories to hold on to, culminating with those three days in Tacoma.
The sisters are also holding out for more.
"It's great. Hopefully we can come back next year and do as good or better," said freshman Jessica Mendoza, a sparkplug with a combined 7 points and seven rebounds in Sunnyside's two victories at State.
Added Maldonado, "Hopefully we can win a championship!"
Lincoln 12 14 12 16 -54
Sunnyside 22 16 9 20 -67
2-PT FG – Lincoln 18/50 (Breneya Johnson 6/10), Sunnyside 13/45 (Natalia Bazan 6/7, Jordan Rodriguez 3/11). 3-PT FG – Lincoln 1/3 (Joy Failauga 1/1), Sunnyside 7/15 (Emilee Maldonado 3/4, Natalia Bazan 2/3, Jordan Rodriguez 2/5). FT – Lincoln 15/24 (Tamia Braggs 9/10, Kayla McLean 2/2), Sunnyside 20/29 (Emilee Maldonado 8/10, Jordan Rodriguez 2/2, Vanessa Alvarez 5/7, Selena Rubalcava 3/4). RBD – Lincoln 45 (Breneya Johnson 9, Tamia Braggs 8, Kiaira Thomas 5), Sunnyside 40 (Jordan Rodriguez 13, Jessica Mendoza 6, Vanessa Alvarez 5). TO – Lincoln 21, Sunnyside 10. STEALS – Lincoln 3 (Aaqila Turner 2), Sunnyside 10 (Vanessa Alvarez 3, Jessica Mendoza 3, Jordan Rodriguez 2).
Lincoln – Kiaira Thomas 3, Aamira Turner 3, Breneya Johnson 13, Isis Amen 0, Donaisiah Brooks 0, Aaqila Turner 2, Kayla McLean 2, Joy Failauga 3, Charity Talo 0, Victoria Mukisa 0, Jasmine Mamea 3, Tamia Braggs 25
Sunnyside – Mireya Herrera 0, Vanessa Alvarez 7, Summer Hazzard 0, Jasmine Lua 0, Jazel Trevino 1, Aubrey Isquierdo 0, Natalia Bazan 18, Selena Rubalcava 5, Emilee Maldonado 19, Jessica Mendoza 3, Jordan Rodriguez 14
Sunnyside 13 12 21 10 -56
University 13 14 4 11 -42
2-PT FG – Sunnyside 18/33 (Natalia Bazan 7/10, Emilee Maldonado 5/6, Selena Rubalcava 2/5, Jordan Rodriguez 2/5), University 10/31 (Ashley Woods 4/9). 3-PT FG – Sunnyside 4/17 (Selena Rubalcava 2/7, Vanessa Alvarez 1/1), University 3/15 (McKenzie Peterson 2/3). FT – Sunnyside 8/13 (Tiana Perez 2/2, Jessica Mendoza 2/2), University 13/15 (Ashley Woods 6/6, Kendall Collins 2/2, Shelby Ritchford 2/2, Kylie Collins 2/2). RBD – Sunnyside 34 (Natalia Bazan 7, Emilee Maldonado 5, Vanessa Alvarez 4, Jessica Mendoza 4, Jordan Rodriguez 4), University 30 (Ashley Woods 5, Shelby Ritchford 5). TO – Sunnyside 16, University 19. STEALS – Sunnyside 12 (Vanessa Alvarez 3, Selena Rubalcava 3, Natalia Bazan 2, Jordan Rodriguez 2), University 7 (Ashley Woods 2).
Sunnyside – Mireya Herrera 0, Vanessa Alvarez 6, Summer Hazzard 0, Jasmine Lua 0, Jazel Trevino 0, Aubrey Isquierdo 0, Natalia Bazan 16, Selena Rubalcava 11, Emilee Maldonado 10, Jessica Mendoza 4, Jordan Rodriguez 7, Tiana Perez 2
University – Ashley Woods 14, Emma Kennedy 2, Kaitlin Pannell 2, Emily Terhaar 0, Sydney Weiler 0, Morgan Hawley 5, Kendall Collins 2, Brooke Bailey 3, Shelby Ritchford 4, McKenzie Peterson 8, Kylie Collins 2, Jessica Shill 0