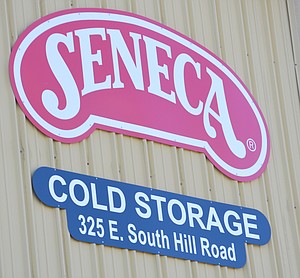 Darigold's expansion, the YV-Tech Center and a new fire station were 2013's more notable building projects in Sunnyside.
Yet, their combined valuation is barely half that of an expansion Seneca Foods is planning here in Sunnyside.
That's according to a building permit Seneca received from Sunnyside planning officials last month.
The permit green-lighted in February is a foundation for a 223,800 square-foot steel warehouse at 319 E. South Hill Rd., near Seneca's cold storage facility.
Seneca's corporate website says its canning operations in Sunnyside for pears, apples and cherries measures 258,000 square feet. That means the warehouse in the works now will nearly double the company's footprint here.
The warehouse foundation alone has a valuation of $539,650. Jamey Ayling, a city planner, estimates that, based on specs provided by Seneca, the warehouse upon completion will have a valuation of almost $23 million.
By comparison, total combined valuation for all new construction projects permitted in Sunnyside last year was just under $30 million.
Seneca has already paid the city $5,653 in permit fees for the foundation. Ayling figures the company will pay about $100,000 in fees by the time the warehouse project is wrapped up.
"They want to get going as fast as possible," Ayling said of Seneca's future warehouse site, which he noted may also include a packaging line.
Seneca, which purchased Independent Foods in Sunnyside last year, is one of the clients for the Port of Sunnyside's industrial wastewater treatment plant. Officials there are pleased to hear of the expansion news.
February is typically a slow month for new construction projects, but Sunnyside city building officials last month issued 29 building permits.
The projects have a combined valuation of $796,163. About two-thirds of that, though, came from Seneca's plans to install a foundation for a 223,800 square-foot warehouse (see related story on page 1).
Other projects of note permitted in Sunnyside during the month of February included the Port of Sunnyside's plans to re-roof its office (the former Horizon building) at 2640 E. Edison Ave. The new roof has an estimated valuation of $44,050.
Also last month, city officials green-lighted permits to install a fire sprinkler system for a new freezer building at 420 Loretta St. and a fire alarm system for Sunnyside High School's new addition.
City coffers garnered a total of $9,393 in permit fees during the month of February.