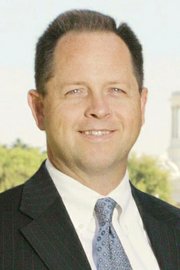 KENNEWICK – George Cicotte, an attorney from Kennewick, yesterday joined the list of candidates seeking the Fourth District Congressional seat being vacated by Doc Hastings at the end of the year.
Hastings last month announced he will be retiring from public office.
Cicotte, a Republican, joins Dan Newhouse of Sunnyside, Clint Didier of Eltopia and Janéa Holmquist Newbry of Moses Lake in seeking Hastings' post.
Cicotte said one of his priorities will be to fix the damage caused by the Affordable Care Act, if he is elected to serve the Fourth Congressional District.
He believes his more than 20 years of legal experience helping employers comply with federal health care and retirement laws will help Congress "…save future generations from enormous tax hikes that threaten to derail our nation and increase our federal debt to unsustainable limits."
Cicotte said he believes the Affordable Care Act is "…threatening to break the bond between health care and employment."
He said, "I will work to match the skill with which Doc Hastings represented us..I am the new person with new energy to represent the Fourth District."
Cicotte is married with seven children. He has a Bachelor's degree from the University of Pennsylvania and earned his law degree at Brigham Young University.