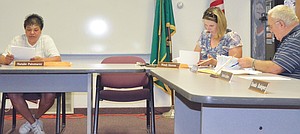 MABTON - Each year the Mabton School Board asks the principals of its schools to provide an improvement plan that includes goals for student and staff success.
Last night first-year Principal Caleb Oten of Mabton Jr./Senior High School provided a recap of that improvement plan.
"We aren't quite there, but we are seeing some improvements," he told the board.
"The work we do is very complex," Oten said.
He said one of the challenges has been to create a culture of collaboration. "When I came here, I hadn't realized there were a lot of adversarial pieces."
Oten said getting staff and students to work together has been a challenge, but mindsets are changing.
Creating a collaborative environment, one that will promote student achievement is one of the goals set in place through the school's improvement plan.
Oten said professional development and instructional teams help create the culture that aims toward this goal.
"There are finite things that can be done to better engage parents and the community," said Oten.
He said a lot of progress has been made to meet that goal, but "…we still have a ways to go."
Oten said there were a lot of lessons learned this past school year. He said the staff will work toward setting staggered deadlines for meeting goals. The staggered deadlines, such as when senior projects are to be completed, will help students meet requirements throughout the year.
This past year, seniors had several requirements that needed to be met in a short period of time late in the academic year. If they are provided earlier deadlines for meeting those requirements there will be less pressure as the end of the year looms, said Oten.
Staff have begun to recognize the use of data as a tool for helping students succeed. Oten said the improvement plan includes a goal of utilizing data to better support the students.
Staff are also working on meeting the goal of creating opportunities to connect students with the school and community for positive relationships. Reinforcing the rules with positive instruction is one of the indicators used for meeting that goal, according to Oten.
He said staff is also working to align curriculum with standards that have been established by Common Core and other assessments that will be used for measuring student progress.
This past year, said Oten, the school has also developed identifiers to help recognize students needing credits and/or to pass state testing requirements. He said graduation mentors use a four-color system to identify students who are on track, need credits or need to pass the state testing requirements to graduate.
At the beginning of the 2013-14 academic year just 21 seniors were on track to graduate. This spring 44 were able to graduate. There are eight seniors who have not yet graduated, but Oten said six should be able to receive their diplomas by the end of summer.
"If we are going to do a gut-check, we need to live and die on whether or not students are getting where they need to be," said Oten.