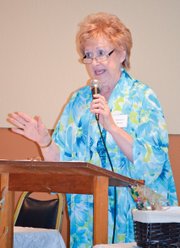 PROSSER – Life lessons from a love of animals and God's love for her were at the heart of Roberta Morin's message this past Tuesday to the Lower Valley Christian Women's Connection.
The featured speaker at Tuesday's luncheon, Morin shared how animals taught her patience and commitment. Also, she noted, working with horses – including on cattle drives – has taught her that a soft voice and quiet demeanor are more effective than being loud.
They were lessons she needed, as Morin says she and her siblings were often left to fend for themselves when they were children because her father was pre-occupied with alcohol and her mother was gone because she had to work to support the family.
Morin says at first music was a way for her to avoid feelings of loneliness and being abandoned.
Soon, though, as a youth she made friends with others from even rougher backgrounds. That led to distractions such as a game of breaking into houses and running away before the police arrived.
Morin says it was finally a teacher who showed her she had worth and value in God's eyes. "I learned that God wanted a relationship with me," she said.
But finding faith didn't mean an end to tough times, as Morin notes not long after she was raped. That led to her blaming God, questioning why He allowed it to happen. "The chip got bigger on my shoulder," she said. "I was angry at God."
Eventually, Morin overcame that hurt and met her future husband. "I married the man I love and I still love the man I married," she quipped.
That love Morin found first in animals, then in God and her husband, she has also shared with their two sons, foster children and, to date, 27 foreign exchange students.
Morin closed by noting those in her audience, too, have likely experienced pain and disappointment in their lives. They, too, she noted, can also find peace in God.
"God loves you just as you are," she said.