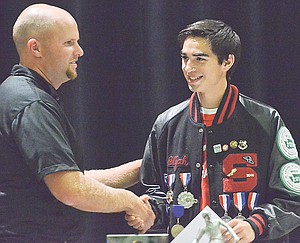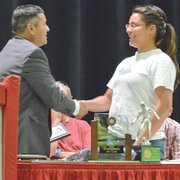 As part of the ceremony celebrating athletes representing Sunnyside High School this past spring, Athletic Director Bill Daley last night recognized the accomplishments of Elijah Pena and the boys soccer team.
He said the students, staff and community are proud of their accomplishments.
Pena was a three-time medalist at last weekend's 3A track meet. His best performance came in the triple jump, placing second.
The boys soccer team placed third in the State tourney, earning Sunnyside its first-ever State trophy in that sport.
He said Sunnyside can also celebrate the academic success of many of its athletes. There were 66 named for earning a grade point average of 3.65 or better during the last trimester.
"We want to push that to the limit…setting a standard," said Daley.
Soccer Coach David Guevara was the first of his peers to present individual awards.
"This was one of the best seasons…it was the highest placing ever," he said before introducing the winner of the Captain Award, Jacob Meza.
"Other players hated playing against us because of this young man," Guevara said of Meza.
Named the most improved player was Noe Meza. Guevara said, "His one leg sometimes was better than the whole league…he's a machine."
Christian Chavez was named MVP for the soccer team. "He led with 18-plus goals…he was fighting for everything…he's our Chihuahua," Guevara said.
Named most inspirational player was Jorge Villegas, and the recipient of the Coaches Award was Enrique De La Cruz.
Track Coach Darren Mezger introduced the award winners for his team next. Angela Montes and David Lopez were named most improved athletes; the Coaches Award was presented to Jeniya Guillen and Julian Naranjo; Jessica Linde and Fabian Gonzalez were presented the Most Outstanding Award; and named MVP were Pena and Brittany Broersma.
Tennis Coach David Down-
ing was introduced and lauded for his dedication to the athletic program at SHS. He is retiring from coaching this year. Downing and Assistant Coach Mike Thorpe presented the Inspirational Award to Alexis Osuna and Carla Rodriguez. Rodriguez was also named the girls MVP, while Nathan Laverman collected MVP honors for the boys. The recipients of the Coaches Award were Trajen Frank and Mirella Ramirez.
Earning honors for their accomplishments in golf were Matt Denchel and Ethan Partch. Coach Gary Rohde presented the Most Improved Player Award to Denchel and the MVP Award to Partch.
Fastpitch Softball Coach Ralph Mendoza, after thanking all who supported the team, presented Dalia Romo with the Best Bat Award. Megan Casseday was named the recipient of the Golden Glove Award; Maricruz Bravo was presented the award for most improved player; the MVP Award was presented to Amber Cornwell; and Claudia Marchen was named the most inspirational player.
Baseball Coach Terry Shines presented Tim Martinez with the Golden Glove and Best Bat awards. Joel Ortega was named most inspirational player and Mason Kupp was named MVP. The Coaches Award was presented to Jacob Mendoza.