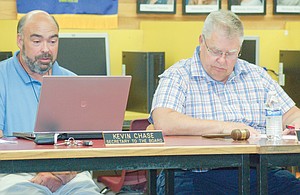 GRANDVIEW – After months of exploratory talks regarding the need and cost of a new Grandview High School sports complex, the Grandview School Board of Directors decided Monday night to go for it.
The board will meet in special session Tuesday, July 29, at 8:30 a.m. to sign the special levy final papers necessary to put the $2.1 million project on the election ballot.
The levy request, however, will not be for the entire $2.1 million.
"I'm suggesting we use $500,000 from our reserve within the general fund to save the voters money on the project," Grandview Assistant Superintendent Brad Shreeve explained during last night's regular board meeting.
The school board concurred, agreeing to seek $1.6 million in levy funds from local taxpayers.
"I think it will be to our advantage to invest in both the track and the football field at the same time, as that will give the district some serious savings," said board member Tim Grow, in voting to approve the special levy request.
The board instructed the district staff to keep the voters' cost to under $1 per $1,000 of assessed property value.
The sports complex proposal, if approved by the voters in November, will completing replace the existing track with a new nine-lane track and associated field events equipment, as well as replace the existing football field sod with turf, Shreeve explained.
The GHS track has become so damaged in recent years other schools have refused to compete on the field, said Shreeve.

Replacing the football/soccer field with turf will also reduce the maintence of the field as well as increase the school district's chances of hosting regional and state events.
District officials still have to work out a few details before beginning the campaign to get voter approval, Shreeve added.
In the meantime, in order to have the levy request on the November ballot, the district must have all the levy funding documentation to the Yakima County Elections office by Aug. 5, said Kevin Chase, Grandview superintendent of schools.
Earlier at the board meeting, the board approved the transfer of $500,000 from the district's general fund into the capital projects fund to help fund a portion of the sports complex improvements, as well as the completion of projects which Chase said still need to be finalized during the next six months.
Among those projects is additional fencing around the district bus garage and several district schools, a land purchase for future development and the addition of at least one portable classroom for the district's students.