Thursday, January 30, 2014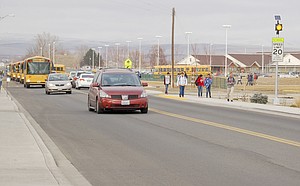 New blinking safety beacons have been installed to remind drivers of the speed limit during school hours along North 16th Street near Sierra Vista Middle School and Sun Valley Elementary School.
Curtis Campbell, director of executive services for the Sunnyside School District, said a study by the city last year showed that drivers were exceeding the speed limit along that stretch of road. The study allowed the school district to get a grant to install the beacons.
"The average speed is 28 mph, well above the regular limit of 25 and even more above the 20 mph limit during school hours," said Campbell.
The school district received a grant from the Washington State Traffic Safety Commission for $7,500 to provide the poles, signs, solar beacons and software. The new devices were recently installed.
"In a year we will do another study to see what impact the signs have had," said Campbell.
"Please obey the speed limit, even though it feels like an empty country road through there," he added. "There are two schools there, one of them is an all-kindergarten school. Be aware."