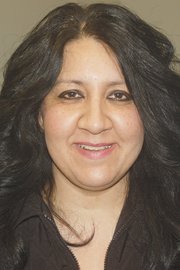 Age: 42.
Spouse: N/A.
Children: Joe 23, Jorden 15, Rhyen 12, Alessandra 7, and Jhayden 5.
Occupationand place of work: Homemaker.
My favorite part of the Yakima Valley is... The smell of grapes during the season.
When I was a child, I wanted to grow up to be... A teacher, but that changed after having five children.
First job I ever had was... A babysitter.
If a movie was made of my life, the actor/actress I'd want to play me is... Salma Hayek.
The best gift I ever received was... My '68 Camaro when I was 16 years old.
The best piece of advice I ever received was... You can do anything you set your mind to do!
My favorite dessert is... Pecan pie.
One of my most memorable moments, besides getting married or having children was... The birth of my granddaughter, Samantha.
If I could witness any event past, present, or future, I would want to see... I want to witness all my children graduate in the future.
I'd love to learn how to... How to be a mechanic. I have the worst luck with cars.
The furthest I have been away from home is when I went to... Mexico.
My favorite leisure activity or hobby is... Painting my fingernails with my daughter Alessandra.
If I didn't have to worry about money, I'd spend my time... Traveling and helping others.
The one word that best describes me is... Giving.
If I could change one thing about myself it would be... There isn't anything. Pretty satisfied.