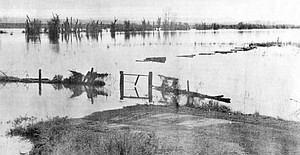 Over the Shoulder
A look back in time from the files of the Sunnyside Daily Sun News and Sunnyside Sun
110 YEARS AGO... (1904)
Because it was viewed as violent, the sport of football was banned by the board of education in Newtown, Iowa, according to a news report in The Sunnyside Sun.
100 YEARS AGO... (1914)
F.J. Clapsaddle, Outlook farmer, was the recipient of a cash prize from O-W.R. & N. railroad company for irrigated corn entered at the Colfax Show.
90 YEARS AGO... (1924)
Fred Arrowsmith, postmaster of Sunnyside, was named president of the Commercial Club. D.N. Wood was elected vice president.
Ellen Stackhouse of Sunny-side was named the editor at Washington State College's Evergreen newspaper.
80 YEARS AGO... (1934)
Sunnyside Police Officer A.P. Eckles was alerted to a burglary at the Henderson Drug Store after Liberty Theatre Manager Carl Jones heard a crash. The thief got away with a stash of prescription drugs, but cut his wrist and was apprehended after seeking medical treatment in Yakima. Officials said he admitted his crime once sheriff's deputies took him into custody.
70 YEARS AGO…(1944)
Members of St. Joseph's Council No. 2103, Knights of Columbus, purchased more than $13,000 in war bonds. Leading the meeting during which the announcement was made were Gene Charvet, Russell Mann, Jake Rollinger, Carl Berndt, Emile Charvet, Till Verhey, Al Erz and Henri Roy.
60 YEARS AGO... (1954)
William H. Harrison was presented the Sunnyside Junior Chamber of Commerce's Key Man Award for his dedication and service to the organization.
Dan Chavez, 9, and Bobby Wiechelman, 11, were the only two youngsters treated at Sunnyside's Valley Memorial Hospital for injuries from sleighing accidents after many youngsters took advantage of snow and Harrison Hill. Chavez was treated for a laceration to the forehead, and Wiechelman had a leg injury.
50 YEARS AGO... (1964)
Valley Memorial Hospital in Sunnyside, in an effort to expand its facilities due to a bed shortage, embarked upon a special fundraising campaign led by Don Bond.
International Harvester Sales and Service, managed by Russ Matheson, opened for business at the corner of Outlook Road and old Highway 410 in Sunnyside.
40 YEARS AGO... (1974)
Yakima Valley College added to its course offerings 12 night classes to be taught at Sunnyside High School.
Sharon Ganser, daughter of Mr. and Mrs. Leroy Ganser of Sunnyside, was named the winner of the VFW Voice of Democracy Contest at the district level, qualifying her speech for the state competition.
30 YEARS AGO... (1984)
Sunnyside Community Hospital installed a state-of-the-art nuclear diagnostic machine, the Generel Electric 400 AC Spect Camera connected to a Star Comp II computer and a Starport computer, allowing physicians to monitor and check organs as they were performing their functions.
With a pair of wins over Wahluke and Kittitas, the Sunnyside Christian boys basketball team improved its South/Central B League record to 5-0. David Kaiser had team-highs off 22 and 15 points in the two games.
20 YEARS AGO... (1994)
The city of Sunnyside and property owners being assessed a latecomers fee for utilities installed for the purpose of building a K-Mart on Yakima Valley Highway were involved in heated discussions. The developers wanted to charge neighbors as much as $68,000.
10 YEARS AGO... (2004)
The Grandview pop/punk band Keno signed with recording label Jet Speed Records in California. Members of the band included Andy Smith, Heath Ripplinger, James Timmons, Kris Bennett and Darren Van Corbach.
Sunnyside High School graduate Vanessa Guzman was named Perry Tech's student of the month.