Wednesday, January 22, 2014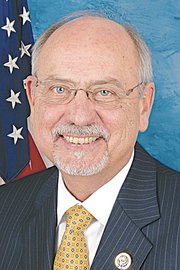 Every year, the federal government issues hundreds of burdensome regulations, covering everything from domestic energy production to the specific types of light bulbs you can buy to the dust found on a farm.
In fact, since first taking office five years ago, President Obama's administration is responsible for issuing nearly $500 billion in regulatory costs, according to a new study.
Washington, D.C. has become a red tape factory. In 2013 alone, 80,224 pages of regulations were published, costing American businesses $112 billion and more than 10 billion hours of paperwork. Red tape costs the typical American family nearly $15,000 each year.
We can all agree that some common sense regulations, which protect workers, consumer safety and our health, are necessary. However, the regulations put in place by the Obama Administration have gone far beyond common sense, and they are choking job creation and contributing to our nation's rising debt.
When burdensome government red tape gets in the way, as it has all too often under this administration, our small businesses - which create two-thirds of jobs in America - find it harder to create new jobs and keep their current employees working full-time.
Easing these regulations would be a significant step in the right direction to creating more American jobs and lessening the burden of government on hard working taxpayers.
Moreover, recent over-reaching actions by this White House have deepened the American people's mistrust in the ability of government to protect its citizens and perform basic functions. Burdensome regulations, such as the train wreck implementation of Obamacare and even our outdated tax code, do not give our small businesses the certainty they need to hire additional employees and grow the economy.
Republicans in the House of Representatives are listening and I'm personally committed to restraining our runaway government and re-empowering its citizens. Last year, the House passed the "Regulations from the Executive in Need of Scrutiny (REINS) Act," a bill I have long-supported, which would make the regulatory process more transparent and accountable, and would put an end to unelected bureaucrats strangling small businesses with red tape. Unfortunately, as these burdensome regulations pile up on our businesses and job creators, the 40 House bills that unwind this administration's job-killing actions continue to pile up on Senate Majority Leader Harry Reid's desk.
White House-imposed regulations are severely affecting our small businesses, family farms and local economies. It's critical for the Senate to take action and provide some much-needed relief to American families and businesses, while still preserving some common sense rules that look out for our safety and well-being.
As President Ronald Reagan once said, "Government's first duty is to protect the people, not run their lives." American small businesses will grow and create jobs when we get the government out of the way.
At a time when our national unemployment hovers above 7 percent, we must continue to find every opportunity possible to create jobs and get Americans back to work.
‑ U.S. Congressman Doc Hastings (R-Pasco) represents Central Washington's Fourth Congressional District.