Tuesday, January 21, 2014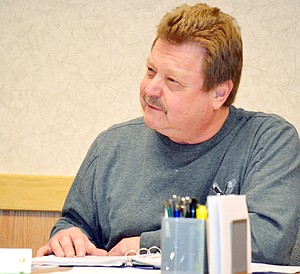 A long-standing dream is on the cusp of reality for the Sunnyside School District, as a ribbon-cutting for the new YV-Tech Skills Center is just a couple months away.
Dr. Rick Cole, Sunnyside Schools Superintendent, shared the update last night with Port of Sunnyside commissioners.
Back in 2007 the port donated land for the skills center on Barnard Boulevard.
However, the district couldn't start work on the center until last year, after $6.2 million in funding from the state legislature was secured.
During the port commission's meeting Monday night, Cole noted a certificate of occupancy for the skills center is imminent and that plans are for a March ribbon cutting ceremony.
Cole's comments on the ribbon cutting ceremony followed a brief presentation on a $10 million bond proposal that is being submitted to voters in the school district this week. A 60 percent super-majority is required for passage.
If approved, the bond would generate $11.5 million in additional state monies for a new Washington Elementary School building, security upgrades, additional parking at Outlook Elementary School and a new high school track.
YV-Tech has been running some of its programs from office space in the port's administration building at Golob Landing.
Once the 13,000 square-foot YV-Tech Skills Center building opens later this year, program options for high school students will range from diesel mechanics to nursing.
Port Commissioner Jeff Matson asked Cole to make sure the timing of this spring's official ribbon cutting ceremony takes place after the legislature adjourns its current session. Matson made the request to ensure Sen. Jim Honeyford can attend the ribbon cutting in appreciation of the Sunnyside lawmaker's efforts in Olympia on behalf of skills center funding.
"Without him pushing on that side we wouldn't be where we are," Matson said.