Thursday, January 16, 2014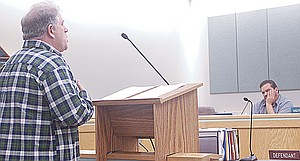 A lone citizen's plead to expand the zoning areas for future marijuana retail shops was heard during the Sunnyside Planning Commission's public hearing regarding potential zoning regulations held last Tuesday night.
The planning commission's first draft ordinance to govern the zoning of marijuana production, processing and retail sales would have limited the retail sales to B2 zoning, which is set aside for general commercial zoning.
The commission at its December meeting worked to ensure that marijuana retail shops would only be located outside the current 1,000 foot buffer to schools, churches, residential areas and day care centers. Additionally, the draft proposal would have only allowed production and processing of marijuana to indoor facilities located within the M1 (light industrial) and M2 (heavy industrial) zones inside the city limits.
But Sunnyside contractor David Rand felt that the B2 zoning is too restrictive.
"There are not enough places available inside the B2 zones where we could put retail shops," he told the commissioners.
As a potential marijuana retailer, Rand said that he has already approached the city regarding buying a parcel on the Monson property at the western end of the city limits, even though the Monson property is zoned M1 and not included in the original draft ordinance as a retail area.

Rand, who is one of six individuals seeking the one marijuana retail sales license allowed in Sunnyside, told the commissioners, as a medical marijuana user, he had hoped to be given a better opportunity to establish a marijuana outlet in the community.
"I just want a better chance to make the business work," he said.
Following a motion by Commissioner Bernie Barker, the commissioners agreed to add the M1 zones to the areas where retail shops might be located, but reminded Rand that even if the zones were approved by Sunnyside City Council, all such activities still have to comply with the city's 1,000 foot buffer. Areas covered by the 1,000 foot buffers include schools, playgrounds, recreational facilities, child care centers, public parks, public transit centers, libraries, game arcades, churches and any property zoned R1, R2 R3 and urban renewal areas.
The draft ordinance, which will now go through State Environmental Policy Act (SEPA) reviews and more public hearings, will then be forwarded to the Sunnyside City Council for final approval.

Approval of the city's marijuana control ordinance may not come until late March, said Jamey Ayling, planning supervisor.
Meanwhile, the city still has a moratorium in place prohibiting accepting applications for business licenses or land use permits for the production, processing or retail sales of recreational or medical marijuana.