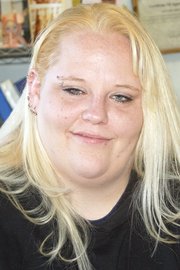 Age: 29.
Spouse: N/A.
Children: N/A.
Occupation and place of work: Office Assistant and bartender at Sunnyside Eagles lodge.
My favorite part of the Yakima Valley is… The climate.
When I was a child, I wanted to grow up to be... A nurse.
First job I ever had was… A caregiver.
If a movie was made of my life, the actor/actress I'd want to play me is... Drew Barrymore.
The best gift I ever received was... Learning my mother was cancer free.
The best piece of advice I ever received was... Life is mine and I should live it my way.
My favorite dessert is... My Grandma Hyde's cherry dessert.
One of my most memorable moments, besides getting married or having children was... Camping at Deer Lake with my Dad.
If I could witness any event past, present, or future, I would want to see... What direction my life is going to take.
I'd love to learn how to... To speak Spanish.
The furthest I have been away from home is when I went to... Georgia.
My favorite leisure activity or hobby is... Camping, riding 4-wheelers and traveling.
If I didn't have to worry about money, I'd spend my time... Traveling.
The one word that best describes me is... Outspoken.
If I could change one thing about myself it would be... I like myself the way I am.