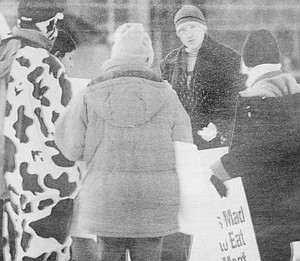 Over the Shoulder
A look back in time from the files of the Sunnyside Daily Sun News and Sunnyside Sun
110 YEARS AGO…(1904)
S.J. Harrison and C.E. Woods of Sunnyside were elected delegates to a convention to organize a hay growers association locally.
Sunnyside pioneer W.H. Cline was named to the board of county commissioners, filling the unexpired term of Lafayette Pace after his death.
100 YEARS AGO…(1914)
The local "opening gun" and worship service for a statewide effort to prohibit the sale or manufacturing of intoxicants was led by Rev. H.R. Livingston of Sunnyside.
Morris Hitchcock was transported to a hospital in Portland after sustaining injuries when he ran into a post, while playing, on the bridge at the foot of the hill below Grandview Heights in Sunnyside.
90 YEARS AGO…(1924)
Roscoe Sheller resigned his post as a Sunnyside City Council member.
Sunnyside art shop manager Herbert Ball moved his stock to the S.L.&I. building, facing Sixth Street.
80 YEARS AGO…(1934)
Sunnyside artist Don Gochnour won a prize in the University of Washington architects exhibit for his painting "Trees on the River," inspired by a scene near the Inter-City Golf links.
The body of Mrs. Armetha Wojceichowski, 23, was located near the Yakima River at Granger by Rev. C.A. Holan and Lee Bennett after she and her husband drowned in a flood. Her husband had yet to be found, and the couple was believed the only human victims of the flood.
70 YEARS AGO…(1944)
Elected officers of the Sunnyside chapter of the Order of Rainbow Girls included worthy advisor Helen Duncan, worthy associate advisor Helen Cox, charity officer Donna Beck, hope officer Jo Dopps, faith officer Bonnie Hett, recorder Jeannette Smith and treasurer Dorothy Kosenbader.
Gov. Arthur B. Langlie was one of the keynote speakers at a law enforcement meeting in Pullman attended by Sunnyside City Attorney E.N. Funk and Councilman W.D. Horton.
60 YEARS AGO…(1954)
Sunnyside's Donald Schenk, Johnny Asher and Johnny Van Belle, all stationed at different military posts in Germany, had a surprise meeting in Frankfurt.
Mrs. Richard Laws and Catherine Corless, teachers at the Sunnyside Pre-school Kindergarten, hosted an open house to raise needed funds for equipment at the school.
50 YEARS AGO…(1964)
Filing for election to the Sunnyside City Council were Lloyd Smith, Dan Hamblet, Mike Burke, Lewis Tree, Kester Padgham, Dale Howard, Gerald Bird and Louis Minton. Smith, Hamblet, Burke and Tree were the incumbent candidates.
Patricia Riches was named the Sunnyside Chamber of Commerce manager. She moved from Pasco to serve in her new job following the resignation of Bill Brooks.
40 YEARS AGO…(1974)
Congressman Mike McCormack, chairman of the US. House Subcommittee on Energy, visited Sunnyside, reporting that the national energy crisis was real and technology needed to be developed "…to establish that this nation will never again be subject to blackmail or dependent upon any other nation for its energy." He also said President Nixon's chances of being impeached were "…better than even."
30 YEARS AGO…(1984)
The Sunnyside High School wrestling team improved its record to 5-0 in the Mid-Valley League, 9-0 overall for the season after defeating the West Valley Rams 60-6 and the Othello Huskies 39-15. Sunnyside's John Guerrero (129 lbs.) pinned Scott Abrams of West Valley in 1:36 and defeated David DeLeon of Othello, 19-5. Also winning both their bouts were Omar Cortez (135 lbs.) and Grizzly teammate Matt Shoemaker (148 lbs.).
20 YEARS AGO…(1994)
Chuck Alexander of Granger and Linda Hughes of Sunnyside were selected as the lead characters in the Valley Musical Company's spring production of "Fiddler on the Roof."
Sunnyside Harrison Middle School teacher Jeff Miller completed a series of murals depicting local and international events to brighten the school hallways.
10 YEARS AGO…(2004)
A touring basketball team from Australia defeated Sunnyside Christian, 79-65. The leading scorer for the Knights was Derek DeVries with 15 points. Teammate Jordan Haak scored 11 points.