Wednesday, January 8, 2014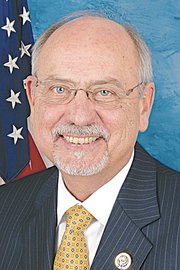 Each month I receive thousands of e-mails, phone calls, letters, tweets and Facebook messages. Here are a few of the recent questions I have received:
What is Congress doing to repeal Obamacare? There is no question that Obamacare has been marked by delays, missteps, missed deadlines and broken promises. It is unaffordable for Central Washingtonians and I have heard many first-hand accounts from residents about the loss of their current health care benefits and drastic increases in premiums and deductibles due to Obamacare.
Furthermore, President Obama has recently overstepped his executive authority in picking and choosing which parts of Obamacare he wishes to enforce. The fight to repeal and dismantle Obamacare and reverse its debilitating impact on the American people is far from over.
While Republicans only control one-half of one-third of the federal government, I will continue to support efforts in the House to end Obamacare and push back against over-reach of the Obama Administration. 
Will the recent budget agreement passed by Congress raise taxes and increase federal spending? No. The two-year budget agreement between the House and Senate reduces the deficit without raising taxes. The law also sets spending levels for the next two years and replaces harmful across-the-board cuts with permanent reforms to mandatory spending programs, which make up more than half of the federal budget and grow each year with no Congressional action.
This bipartisan law is far from perfect, and I will continue to support legislation to reduce federal spending and eliminate our national debt. 
What is the status of the Farm Bill? Agriculture is the backbone of Central Washington's economy. Our growers deserve certainty in federal farm policy to help them plan ahead. At the same time, with a record national debt, we have more of a responsibility than ever to reduce spending and use taxpayer dollars effectively.
I supported legislation last year that continues investments in research, pest management and trade promotion. These are important tools for Central Washington farmers as they compete in a global marketplace. We've also worked to eliminate or consolidate more than 100 programs - saving taxpayers nearly $60 billion.
The Senate passed a different version of the Farm Bill last year, and a conference committee with members from both the House and the Senate has been working since October to resolve the differences between these two bills. I am hopeful that conferees will reach an agreement soon on a final Farm Bill. This legislation will then have to pass the House and Senate before going to the President to be signed into law.   
I appreciate that so many people I represent from Central Washington take the time to share their views with me. The easiest way to contact me is through my website at www.hastings.house.gov  where you can email me and sign up to receive newsletters. You can also follow me on Facebook and Twitter for additional updates.