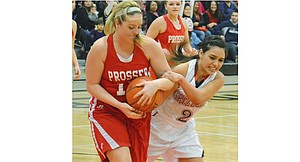 Prosser brought little to the table last Friday, which opened the door for Sunnyside to feast on a 64-24 win.
The Sunnyside High School girls basketball team, showing little rust from a two-week break over the holiday season, broke out to an 18-0 lead against the visiting, and winless, Prosser Mustangs. The Lady Grizzlies went into the half up by an insurmountable 44-12 score.
Sunnyside even outscored the 'Stangs by a 20-12 margin in the final two quarters, despite abandoning its press and emptying its bench.
The class 3A Lady Grizzlies (7-1) were powered by the trio of Jordan Rodriguez, Vanessa Alvarez and Selena Rubalcava.
Rodriguez, who last season as a sophomore garnered Big Nine League player of the year honors, led all scorers in Friday's game with 17 points. She dropped in all four of her attempts from behind the 3-point arc, finishing 6-for-11 from the field. The 5'8" Rodriguez, too, collected a game-best seven boards, leading Sunnyside to a 30 to 14 rebounding advantage against visiting 2A Prosser.
Alvarez, the lone senior on this year's team and a returning all-league first team selection, pumped in 14 points for the winners.
Rubalcava chipped in 9 points, all of her buckets coming from long range. The dead-eye shooter was 3-for-5 in trey attempts.
SHS Coach Rick Puente said for the most part he was pleased with the play of his club last Friday. He noted his starters, despite seeing limited time on the floor, performed up to expectations.
Puente also praised his reserves. "A lot of the girls stepped up in this game," he said of his bench players. "They helped establish their roles."
One of those included 5'0" junior Jazel Trevino. Filling in at the point, Trevino spearheaded several offensive attacks late in the game. The mighty mite also popped in 5 points.
"One thing about Jazel, she always seems to be in the right place at the right time," Puente said.
If there was a negative to come out of last Friday's game, it would have to be the numerous putback shots Sunnyside attempted that were off the mark.
"Those shots from right under the basket, we just didn't execute. There's no excuse for us missing those," said Puente.
Prosser, which shot at a paltry 21 percent clip from the field, was led by seniors Shannon Dunkin and Cheyenne Silva. The two combined for 15 of Prosser's 24 points.
In looking ahead to this coming Friday and Saturday when Sunnyside returns to Big Nine League play, Puente said the two road games at Eastmont and Davis will be big tests for his team.
"We don't know a lot about Eastmont, other than they lost some players off last year's team. We do know that it's always tough to get a win on the road at Eastmont," said Puente.
"The Davis game on Saturday…yeah, we need to take that one, after them beating us on our home court back in early December. Bottom line, we're going to have to shoot the ball a lot better than the way we did the first time we played them," he said.
Prosser 7 5 6 6 -24
Sunnyside 27 17 17 3 -64
2-PT FG – Prosser 7/23, Sunnyside 16/37. 3-PT FG – Prosser 2/20 (Dunkin 2), Sunnyside 8/15 (Rodriguez 4, Rubalcava 3). FT – Prosser 4/10, Sunnyside 8/12. RBD – Prosser 14, Sunnyside 30 (Rodriguez 7. ASST – Bazan (SS) 4.
Prosser – Carillo 2, Meirndorf 2, Johnson 2, Silva 7, Dunkin 8, Roberts 3
Sunnyside – Alvarez 14, Trevino 5, Bazan 4, Lua 0, Rubalcava 9, Maldonado 5, Mendoza 5, Rodriguez 17, Perez 4, Herrera 0, Hazzard 1