Friday, February 28, 2014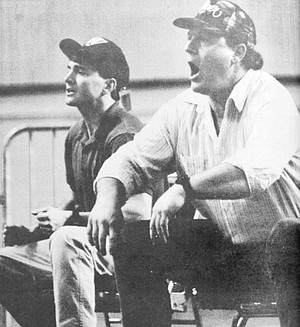 110 YEARS AGO…(1904)
Edna George had the leading role of "Golden Hair," in the Sunnyside Women's Guild's production of "Golden Hair and the Three Bears."
Walter N. Granger of the Yakima Valley was appointed to Washington State Governor McBride's irrigation commission.
100 YEARS AGO…(1914)
Jurors selected to serve the March term at Yakima County Superior Court included Sunnyside's D.B. Zook, L.W. Park, F. Oswalt, D.N. Wood, Mark Emery, Frank Alexander, Arthur Crawford and Mrs. L.E. Mahaffy.
90 YEARS AGO…(1924)
Land at the corner of South Sixth Street and East Edison Avenue was being considered by the post office inspector for an 1,800 square foot post office to serve Sunnyside residents.
Gordon Wilson of Sunnyside was awarded an $18,200 contract to construct the Roosevelt-Bickleton road.
80 YEARS AGO…(1934)
Irwin Longbottom, a member of the brick-laying crew at Sunnyside's high school construction site, narrowly escaped injury after a load of bricks came crashing down near him.
70 YEARS AGO…(1944)
Stanley, John and Gordon Kyllingstad of Yakima purchased Sunnyside's Heney & Skiles Store, one of the town's earliest businesses, having been established in 1910.
60 YEARS AGO…(1954)
Sunnyside Mayor Ed Albro was present for the groundbreaking ceremony hosted by Pastor Paul G. Trulin of the Assembly of God Church at South 16th Street and East Lincoln Avenue.
Sunnyside's Roscoe Sheller was re-elected president of the Fort Simcoe at Mool Mool Restoration Society.
50 YEARS AGO…(1964)
An open house for the public was provided, giving Sunnyside residents the opportunity to see its new library, fire station and a remodeled city hall. The three projects totaled $300,000 in construction costs.
40 YEARS AGO…(1974)
Sunnyside city workers began work on South Ninth Street in preparation for a veterans memorial approved by the Sunnyside City Council.
30 YEARS AGO…(1984)
Jeanne Cunningham, Nellie Edwards, Beatrice Villanueva, Anna Charvet and Mary Lopez of the Catholics United for Life organization were found not guilty of trespassing by Judge A. John Nicholson, after being cited by Sunnyside police when handing out pamphlets at the Sunnyside Professional Center.
Two of six Grizzly grapplers at the State wrestling tournament held at Eastern Washington University, Chip McLean and Joe Garza, medaled.
20 YEARS AGO…(1994)
At the annual Sunnyside Chamber of Commerce community awards banquet, Dr. Randy Schuler was named health care person of the year, Linda and Sid Egley were honored for having the nicest store front, Don Vlieger was presented the award for public official of the year, Jerri Honeyford was named outstanding educator of the year, Mike Funk won the business person of the year, Greg Uberuaga was presented the award for community service and Arnold Martin received the agri-business person of the year award.
10 YEARS AGO…(2004)
Grandview Police Chief Dave Charvet retired and was rehired by the city, reducing his hours under a state retirement program set up specifically for law enforcement officers.
Sunnyside Christian's Patrick Elerding won the 1A/2A/3A State title in the 100-yard breaststroke, besting Russ Mahan of Sammamish by six one-hundredths of a second.