Wednesday, February 26, 2014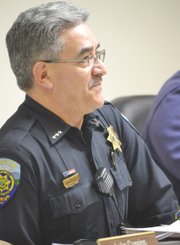 MABTON – Finding out less than a third of dog owners in Mabton have their pets licensed has been a wake-up call for this city.
Last night, Tuesday, the Mabton City Council received suggestions on how to tighten up the city's code related to dogs.
The issue came to a head when Police Chief Rick Gutierrez prepared to issue a $2,000 citation yesterday against a resident with a long history of violating the city's dog ordinances.
Gutierrez told council last night the situation is so bad that when police are called to the resident's property to address dog complaints he is concerned for staff's safety. He noted the fear is some day there might be "…an officer bitten or a dog getting shot."
Yet, the chief told council he had to tear up the citation because the city's dog codes are written as criminal offenses rather than civil infractions.
Gutierrez called on council to enact tougher fines on those who violate Mabton's dog laws, such as having an animal that is unlicensed or running at-large.
"We need to hit'em hard the first time," he said in proposing a flat fine of $500 on dog offenses. "Repeat offenses are a constant problem."
Council warmed to the idea of imposing a higher fine. "People who take care of their dogs won't have a problem," said Mayor Mario Martinez.
Other suggestions council will look at in the near future include not only listing dog violations as civil complaints, but making Mabton's animal code consistent with Sunnyside's. That's because Mabton contracts with the Sunnyside Municipal Court.
Besides the safety issue, Gutierrez says there is also the practical problem of police and public works staff having to spend so much time chasing down dogs at large in town.
Of 170 homes in Mabton with dogs, only 40 to 50 have licensed animals.
Council is expected to take action on the issue during a meeting next month.