Tuesday, February 25, 2014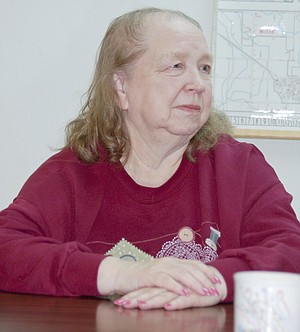 What to expect regarding rehabilitation
According to the American Stroke Association a person's post stroke rehabilitation program may focus on:
• Activities of daily living such as eating, bathing and dressing.
• Mobility skills such as transferring from bed to chair, walking or self-propelling a wheelchair.
• Communication skills in speech and language.
• Cognitive skills such as memory or problem solving.
• Social skills in interacting with other people.
• Psychological functioning to improve coping skills and treatment to overcome depression, if needed.
For more information about causes, signs and effects of strokes, visit the American Stroke Association website at www.strokeassocia...
The day that changed her life, Linda Craig remembers having woken up feeling "funny."
But feeling funny didn't seem worthy of a call to her doctor, a decision the Sunnyside woman later regretted.
It was the Saturday after Thanksgiving two years ago that she felt something was wrong but she just couldn't quite identify the cause.
Something just felt off, she recalls.
Out of town for the weekend, Craig and her husband, Gerald, were planning to return home from visiting family in Western Washington.
"I drove as far as North Bend, still not sure what was going on with me," she recalls.
"When we stopped at the rest stop, I realized something was really wrong, but I still wasn't sure just what," she said. Getting out the car she nearly fell. "I was having trouble walking," she said.
Still, the couple traveled on to Sunnyside but thought briefly about stopping at an emergency room in Yakima. "But we continued on home," she said.
That, she now realizes, was a huge mistake. Even today, it is hard for the former insurance broker to realize that funny feeling was a symptom of a stroke.
"Had I sought emergency medical assistance as soon as I realized something was off, I might have minimized the effects of my stroke," she said.
According to the American Stroke Associa­tion, if a person experiencing any symptoms of a stroke can obtain medical attention within three hours of the first signs, they may escape the medical crisis unscathed.
Perhaps in denial, she wasn't entirely sure she had suffered a stroke until the next morning when her husband passed her the newspaper and "...it slipped through my hands," Craig said. "My hand was numb and I couldn't walk. I started having trouble speaking."
But Craig, like many women, didn't know those conditions are among major symptoms of a stroke.
Craig now knows that strokes are considered one of the leading causes of death among women. The American Stroke Association claims one in five women will have a stroke in her life time and 66 percent of stroke deaths will occur in women.
The symptoms include dizziness, loss of balance, a sudden severe headache, slurred speech, weakness in the arms, confusion, trouble seeing in one or both eyes and face drooping on one side.
Craig encourages friends and family to learn all the signs of a stroke and to call 9-1-1 immediately if they even suspect something feels funny.
"It's better to be safe," she said.
It has been a long two years for the once energetic woman. "I've had to relearn how to walk," she said. "I had to relearn how to do a lot of things for myself," she added.
One of the side effects of the stroke she hadn't been aware of was the change in in her emotions. "For a long time, I would break down crying at even the smallest things," Craig said.
"I just couldn't control my emotions," she said, noting that much of the time she felt like she was on an emotional rollercoaster. She later learned her emotional seesaw is called post stroke depression.
"It took a while, but I have managed to get the emotions under control. Sometimes it is still difficult."
Her rehabilitation took time, and she gives a lot of credit to her husband for his patience and the skills of her therapists.
"I just want people to be aware and avoid some of the pain that I suffered by not realizing my condition sooner.
"Know the symptoms and get help immediately," she said.