Thursday, February 20, 2014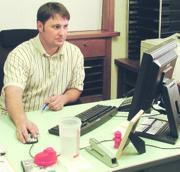 The city of Sunnyside is currently recruiting a new police chief, but also is advertising for a new public works director and public works superintendent.
Sunnyside Human Resources Director Anna Bullock said the public works director position was restored as part of this year's budget. Bullock said that current Public Works Superintendent Shane Fisher may apply for the job.
"It's open for him to apply," said Bullock. "He has to go through the process like anyone else."
If Fisher declines to apply or is not chosen for the director position, Bullock indicated he will be retaining his current position. However, if he is hired as the director, the city will need a new superintendent.
"That's why we've posted advertisements for both jobs," she said.
The director position was eliminated during budget cuts in 2011. Some of the duties of the position were taken over by the deputy city manager, a position which has also since been eliminated.