Wednesday, February 19, 2014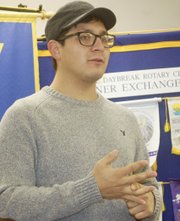 Obbie Cruz has been practicing the art of photography since he was a boy in Hidalgo, Mexico.
It hasn't always easy, the 26-year-old Sunnyside photographer admits. Coming from three generations of photographers, he knew the family expected him to also join the family business.
"But I didn't want to be a photographer," he said. "So I decided to study marketing."
"Boy, was that boring," he told the Sunnyside Daybreak Rotary Club members at their regularly scheduled meeting held this morning (Wednesday).
Today Cruz is the owner and head photographer at Obbie Cruz Photography, located at 317 Yakima Valley Highway.
"We do weddings and quinceaneras, as well as senior portraits and the occasional passport photograph," he said.
His business is not limited to portrait photography, however. He does quite a bit of work restoring old photographs and transferring old slides and home movies to digital media.
"I really enjoy restoring the old photos," he said. Cruz said he loves taking wedding photos.
"I love getting to know the couple and asking all of the awkward questions about how they met and what their future plans might be," he said.
"I also like doing the quinceaneras where I'm able to capture the transformation of little girls into ladies," Cruz added.
"I like seeing the look on (the) mothers' faces when they see that their little girls are all grown up and beautiful," he said.
Perhaps because of his own on-the-job mentoring experiences as a teenager, Cruz now shares his time and talent with local high school students interested in learning the art of photography.
"I have mentored students in Sunnyside, Grandview and Prosser," he said.
He said he knows that cell phones can take "pretty good photos," but he questions whether the most important moments in a person's life should be left in the hands of a 13-year-old cousin.
"There is value in having professional photographs taken of those special events," Cruz said. "Creating beautiful portraits takes knowledge and experience," he said.
People interested in seeing Cruz's work are invited to visit his Facebook page at Obbie Cruz Photography.