Tuesday, February 18, 2014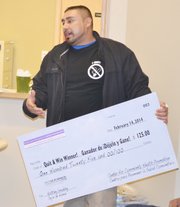 More spending money and a fresh perspective are just some of the benefits 28 Lower Valley residents are experiencing after completing a smoking cessation program at the Fred Hutchinson Cancer Research Center in Sunnyside.
Last Friday, those who completed the "Quit and Win" program gathered for a reception and awards program at the Fred Hutchinson office.
One of them, Elizabeth Knowles, noted she now likes the way her car smells. "I never noticed that smell before on my clothes, in my car, in my hair," she says. "Now when I smell it on others I think, ewww!"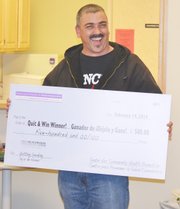 Katie McWhorter says there's less stress in her life because she's no longer needing to rummage around for the extra $300 or so she spent on cigarettes each month. She and her boyfriend both completed the program, and she says the combined savings now pays their monthly rent.
Ralph Contreras said he entered the program for his health.
Several on hand for Friday's event also said they entered the smoking cessation program for a chance to win money.
Each of the 28 participants who completed "Quit to Win" – 77 smokers entered the program - were entered in a drawing for $875 in cash prizes. Contreras was the big winner when his name was drawn for a $500 check, followed by Oscar Zamora winning the $250 prize and Oscar Vargas winning the $125 prize.
Besides improved health and fresh air, the other 25 people who completed the program were also winners in that each one will receive a $25 Walmart gift card.