Wednesday, February 12, 2014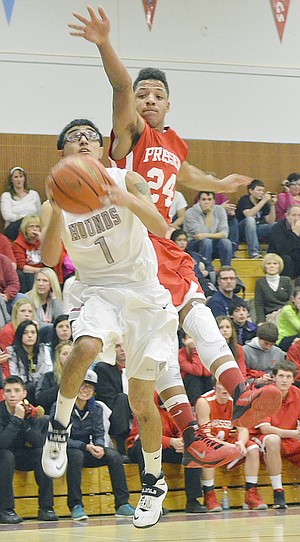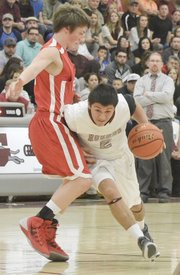 GRANDVIEW – There is a long-standing rivalry between Grandview and Prosser.
Therefore, it is no surprise that the Grandview High School gym was filled to capacity as the Greyhounds went head-to-head with the Mustangs last night.
The home crowd was not disappointed as the 'Hounds defeated Prosser 77-68 to wrap up the CWAC title.
Grandview will next Monday, Feb. 17, in the District semi-finals host the winner of this coming Friday's District opener between Wapato and Ellensburg.
The opening quarter of last night's game was a little sloppy as both teams tried to settle into a rhythm. Prosser scored the first two points, and Grandview was unable to answer on its next four possessions.
But, the Greyhounds began to settle down, making their shots to end the quarter with an 11-9 lead.
The second stanza went the Mustangs' way as they battled with Grandview to end the half tied 31-all.
"The Mustangs came to play," said Grandview Coach Glenn Braman.
Grandview took to the court in the third quarter with determination. The Greyhounds, having experienced an overtime battle the last time they met the Mustangs, set the pace to put an exclamation mark on the regular season.
Isaiah Ruiz sparked the 'Hounds, banking in a half-court shot to jump start the rally.
"We were able to build on that lead," said Braman.
Grandview outscored the Mustangs 20-16, but Braman said, "The game was still not decided."
He said Prosser kept the game close by outscoring the 'Hounds by two in the final stanza.
"Defensively, we need to focus on getting stops each time down the floor…we have been giving up too many points and relying on scoring a lot of points to win," said Braman.
The two Isaiahs (Ruiz and Gonzales) were back on their game last night. Ruiz popped in a team-high 19 points and Gonzales contributed 16 points to the final tally.
Teammate Joey Saenz collected another 10 points for Grandview.
Grandview's Jay Armen-dariz was credited for five steals, and Ruiz and teammate Bryce Carpenter each provided four assists. Carpenter and Gonzales recorded six defensive boards apiece.
For Prosser, it was Cardell Jones who scored a game-high 25 points, while teammate Isaiah Sanders tallied 19 points.
"I am very proud of this team and how they have battled all season long," Braman said.
He is pleased the Grey-hounds ended the season 15-3 in league play, 17-3 overall.
Braman said Grandview will have to work hard next Monday, facing either Wapato or Ellensburg. "We split with those teams this year...so we will have to have a good game plan and be playing our best basketball."