Tuesday, February 4, 2014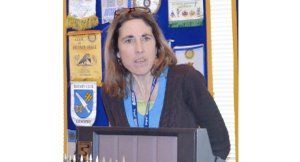 The Sunnyside Noon Rotary Club has for a couple of years been looking at ways to support local youth.
One idea that came about was adopting a classroom within the Sunnyside School District.
This past Monday the local Rotarians were encouraged to sign up for the Adopt-a-Classroom program.
The club has a history of performing community service projects, but this particular project is intended to be long-term, according to Adopt-a-Classroom Committee member Josh Beck.
At Monday's meeting Sunnyside Schools Superintendent Dr. Rick Cole and Chief Kamiakin Elementary School teacher Doris Matson talked about the benefits of such a program.
Cole said there were challenges associated with selecting the classroom the Rotary Club will assist, but Matson's class is unique. It is made up of a combination of third and fourth grade students.
Matson said her students were placed in her classroom because they have limited or no English language skills at all. They fall in the strategic/intensive category for benchmark testing.
"The greatest need is language," said Matson, stating she believes the Adopt-a-Classroom program will give students valuable time to interact with Rotarians, who in turn will assist the youngsters with language skills. The program will also help students make connections within the community that they might not otherwise have made, said Matson.
The Rotarians will be expected to assist the students with English skills via reading, math and other interactions.
"The good thing is when you come to my room, everyone has an iPad in their hands," said Matson.
She said the students use computer tablets for much of their learning. She said the tablets have been useful, providing students instant access to resources and programs that better their educational skills.
"They all work hard," said Matson, stating many of her students were deliberately chosen for her classroom because they need to work on their learning skills.
However, the students have proven to her that they are willing and able to learn. The fourth grade students have experienced a 34 percent gain toward meeting benchmarks and the third grade students have made a 19 percent gain.
Connecting to the community around them, Matson believes, will aid the students in making even more progress.
"This is getting our community where it needs to be," she said, stating the success of the students means greater success for Sunnyside.
"We have amazing kids," said Matson, encouraging the Rotarians to sign up for the Adopt-a-Classroom program.