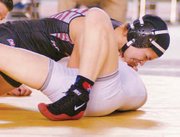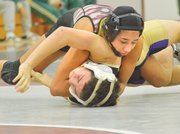 FARGO, N.D. – Upping the ante paid off for a pair of Grandview High School girls at the national freestyle wrestling tournament last month in Fargo, N.D.
Marizza Birrueta (112 lbs.) and Desiree Zavala (139 lbs.) captured national titles in the junior women's tourney in their respective weight classes.
Birrueta earned first-place honors with a pin in 5:13 over Cassidy Jasperson of Texas in the championship match.
Zavala rallied from an early 2-0 deficit in her title match against Cassandra Herkelman of Iowa to reel off 12 unanswered points for a 12-2 technical fall.
Coach Bob Johnson said the key to the national honors was an increased commitment by the girls.
"Last year they only wanted to work out one hour a day," he said. "They realized that wasn't enough and now they're up to two hours a day."
He said the girls getting another year older and entering more freestyle competitions also helped prep them for the national stage.
A year ago Birrueta and Zavala entered the national competition in Fargo for the first time. Zavala placed fifth but Birrueta didn't medal.
A third Grandview High teammate, Viannei Perez, earned fifth-place honors at Fargo last month in the 112-lb. weight class. Perez also garnered seventh-place honors at 108 lbs. in a Cadet tourney held at Fargo.
All three are established wrestlers at Grandview High School. Birrueta and Zavala are defending State champions at 106 and 130 lbs., respectively.
Zavala's is the second national title in three months, as the junior-to-be won the 142-lb. crown in the women's 18 and under division at the national Worlds of Wrestling event in Reno, Nev. this past April.
The three Lady Greyhound grapplers not only gained personal success at Fargo last month, but they also helped Team Washington to the national title at a women's dual tourney.
"It was the first time our state took first place," said Johnson. "Usually, California takes it."
Birrueta, Zavala and Perez earned All-American honors at Fargo.