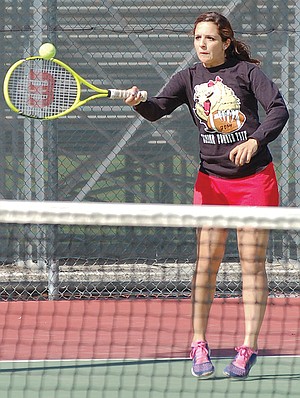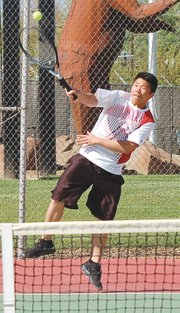 It was the lowest ranked members of Sunnyside's tennis squads that managed to pull out wins this past Tuesday against visiting Eastmont, while the higher ranked players all fell.
That translated into 6-1 losses for both the SHS boys and girls tennis squads.
In the No. 3 boys doubles spot, Grizzlies Rissto Barboza and Bryce Murphy challenged Eastmont's Addison Kirkpatrick and Peter Chang and succeeded in taking the match to three sets.
The Sunnyside pair won the first set 6-3, but dropped the second 6-4. Coming back, the Grizzlies proved their mettle with a 6-4 win to take the match and give the Sunnyside boys squad its only win of the day.
On the girls side, the No. 3 doubles team of Angelica Ceja and Jessica Garnica also fought a grueling battle, going three sets with two tiebreakers, 6-4, 6-7, 7-6, to give the Lady Grizzly squad its only win.
"We gained valuable experience with this match," said Sunnyside Coach David Downing. "Overall, I am impressed with the level of play of individual players."
Alexis Osuna, Sunnyside's No. 1 boys singles player, lost in two sets, 6-1, 6-1, to Eastmont's Colton Erho. At No. 2 singles, Nathan Laverman lost 6-2, 6-2, while at No. 3 Zach Halma lost 6-1, 6-0. Sunnyside No. 4 singles player Trajen Frank absorbed a 6-2, 6-1 loss.
In doubles play, the Sunnyside boys No. 1 team of Isaiah Lyczewski and Michael Yan lost 6-1, 6-2. The Grizzlies' No. 2 team, Matthew Schaneman and Cody Parke, lost 6-2, 6-1.
Top Lady Grizzly singles player Jazmine Lopez was knocked out in back-to-back 6-0 sets. Sunnyside No. 2 girls singles player Elexis Lepe lost 6-1, 6-0. Roxy Plancarte, No. 3 for Sunnyside, lost 6-2, 6-1.
The No. 4 singles player, Carla Rodriguez, lost 6-3, 6-2, but played a very strong game, according to Downing.
The Lady Grizzly No. 1 doubles team of Mattie Meyers and Sydnee Hernandez lost 6-1, 6-1.
At No. 2 doubles for Sunnyside, Mirella Ramirez and Stephanie Herrera put up a good fight, winning the first set 6-2 and taking the second set to a tiebreaker before losing 7-6. The pair lost the final set 6-2.
"It was a very hard-fought battle," said Downing. "Good tennis throughout."
Sunnyside's tennis squads will head to Moses Lake for a league match today, Thursday.