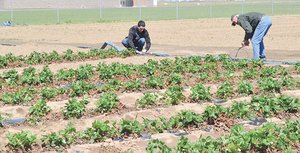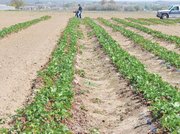 For the second year Sunnyside Transformation Yakima Valley has started its community garden and youth ranch outreach program.
The program is divided into two segments. A community garden is set up to offer community members an opportunity to cultivate their own produce. There are several beds located on the southern end of the Sunnyside Christian Reformed Church property for community members.
On the north side of the property is a field that provides youth in the community a way to develop new relationships while learning skills that will help them in the workforce.
The youth ranch, as it is called, consists of strawberries being grown for future sales, according to Tony Cardenas of Sunnyside Transformation Yakima Valley.
He said the organization is working toward marketing the fruit.
"Another portion of the field will have pepper plants…this year we will grow just one variety," said Cardenas.
Youths can work in the field, earning community service hours or earn money for summer camp or to meet other goals, he said.
Sunnyside Transformation Yakima Valley has this year discontinued its annual youth job fair.
However, Cardenas said the organization realizes youngsters in the community still need to gain valuable job experience.
The organization is seeking sponsors willing to help youngsters earn a paycheck. Cardenas said Sunnyside Transformation Yakima Valley would like to pay youngsters working at the youth ranch $10 per hour for their efforts.
The youngsters will be involved in planting, weeding, watering and harvesting the strawberries and peppers.
The work teaches them patience, attention to detail and the value of hard work, according to Cardenas.
"This effort serves as a win-win," he said.
"Students get to work for their worthy goals and the youth ranch work gets done."
All donations are tax-deductible. Hours each youngster works will be tracked for the appropriate credit. Proceeds from the sale of the strawberries and peppers are used to support Sunnyside Transformation Yakima Valley and its programs.
Anyone interested in providing sponsorships can call Cardenas at 830-4753 or email him at agcardenas@charter.net.