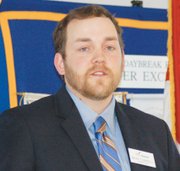 As a biosolids coordinator for Natural Selection Farms of Sunnyside, Brian Campbell is already vested in working with agricultural strategies. Now as a new member of the Washington Ag-Forestry Leadership Program, the young man is preparing himself to learn how agricultural policy is made.
Campbell, a member of the ag-forestry program class of 36, shared the highlights of his first year as a leadership candidate with the Sunnyside Daybreak Rotary Club this past Wednesday, many of whom are also graduates of the Washington State Ag-Forestry Program.
The program, founded in 1978 by former Washington State Director of Agriculture Stu Bledsoe of Ellensburg, is "…a leadership development organization dedicated to advancing the natural resource industries through enhanced understanding, education and empowerment of future leaders," said Campbell.
As a program participant, Campbell will ultimately attend 14 three-day seminars covering all aspects of leadership from policy making to networking, working with the media and public speaking, all with a focus on the agricultural and forestry industries.
So far he has visited the Washington State University veterinarian school, soup kitchens and food banks in Tacoma, talked with state legislators in Olympia and "...in late February, we spent a week in Washington D.C. while Congress was in session," Campbell said.

In addition, in January 2015 he will travel with his classmates to Vietnam and Cambodia as a part of the program's international seminar focused on trade issues and agricultural issues of those countries.
Initially, Campbell said he was interested in learning more leadership skills, and now he finds himself more interested in the process of creating public policy, he said.
Being a graduate of the program is more than a two-year stint out of his life, he said.
"It's a lifelong commitment," Campbell said.