Wednesday, April 23, 2014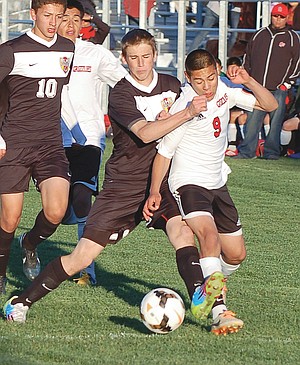 BOYS PREP SOCCER
Trailing twice last night against co-CBBN leader Moses Lake, the host Sunnyside Grizzly soccer team battled into overtime before knocking off the Chiefs 3-2.
"The Chiefs came out extremely aggressive," said Sunnyside Coach David Guevara, who shares coaching duties with Sergio Licona. "Moses Lake is no joke, they're a very tough team."
Moses Lake grabbed a 1-0 in the 33rd minute of Tuesday's match on a goal by Johnny Cortez. The Chiefs made the advantage stand up the rest of the first half.
During intermission, Sunnyside regrouped and just two minutes into the second half found an equalizer thanks to Alexander Marin.
Undeterred, Moses Lake answered in the 45th minute on a second Cortez score to go up 2-1.
With less than 15 minutes to play in the match, Sunnyside's Misael Vasquez knotted the score at 2-2 with a goal assisted by Luis Licona. Vasquez was a replacement for midfielder Noe Meza, who suffered a foot injury. "We put him in and he scored," Guevara said of Vasquez's timely first goal of the season.
The score remained even at the end of regulation, forcing a pair of five-minute overtime sessions. The first team to score a "golden goal" in overtime is the victor.
As it happened, it was the Grizzlies who came out on top in the 87th minute of play – midway through the second and final OT – when Marin scored on a breakaway.
The victory improved Sunnyside's perfect season mark to 11-0. It was the first league defeat for Moses Lake.
Guevara says his team is facing increased physical play from CBBN opponents as the Grizzlies continue their winning ways. Moses Lake, for example, was whistled for 23 fouls last night compared to Sunnyside's 14.
"We tell these boys they have a target on their back," he said. "Other teams want to prove they can play with our guys. It's tough when you're playing rugby-style soccer, but talent the majority of the time will defeat physical play."
It was the second consecutive match requiring the Grizzlies to rally from behind.
"A lot of it comes from the fact we win as a team and lose as a team," Guevara said of Sunnyside's persistence. "Errors happen and we fix them. Coach Licona reminds them they have to be vocal out there."
A leader in the back for Sunnyside is Jacob Meza. "He doesn't let anything affect the defense," Guevara says of the senior.
Speaking of Grizzly defense, Sunnyside keeper Manuel Calvillo recorded four saves to help keep the Chiefs at bay.
Sunnyside High School's soccer team returns to action this coming Friday at Wenatchee.