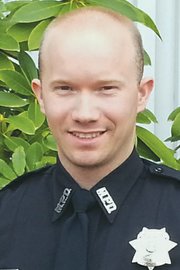 MABTON - After five months of training, Mabton Police Officer Josh L. Molinuex has graduated from the Washington State Criminal Justice Training Academy, according to Mabton Police Chief Ricardo Gutierrez.

Molinuex officially graduated from the basic law enforcement academy class of #699 last Tuesday, April 15, in Burien.
Molinuex, who joined the Mabton Police Department in early 2013 as a full-time officer, began his first patrol last weekend as an Academy graduate, Gutierrez said.

Molinuex's official start with the department brings the Mabton police force up to three full-time officers and nine reserve officers, Gutierrez added.
Molinuex began his career in law enforcement in 2011 with the Union Gap Police Department as a reserve officer. After completing his field training with the department, he soon pursued a full-time position.
He is a third-generation police officer. His grandfather was a chief civil deputy with the Yakima County Sheriff's Office. His step-mother is currently a commissioned officer with the Selah Police Department.