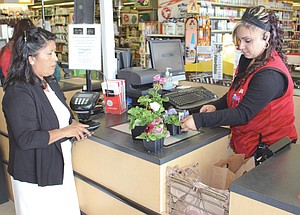 Saturday is not a day to work, it's a day to play in the yard, according to customers who shop at Sunnyside's Ace Hardware Store.
The weekend is a time to fertilize the lawn, spray for weeds, fix broken underground irrigation lines and maybe check out paint samples for house painting projects, say most customers.
"This is all for fun," said Ivan White on a recent trip to the local hardware and garden store. His trip was for yard supplies, all of which can be found at the local hardware store.
In fact, according to store manager Rob Russell, most of his weekend customers seem to be seeking new potting soil, paint and items for repairs around the house, which have been discovered while doing preliminary spring yard work.
"We've also see a lot of people purchasing fertilizer," he said.
‑ Julia Hart can be contacted
at 509-837-4500, or email
JHart@DailySunNews.com