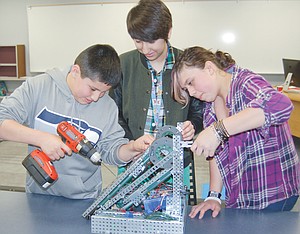 The next generation of Sunnyside robotics experts, practicing their skills at Harrison Middle School, have earned a trip to the VEX Robotics World Championships next week.
Made up of two eighth-graders and a sixth-grader, the Harrison team is currently working to finish its robot in time for the competition.
"We've got some work to do," admitted team spokesperson, Andrea Barcenas.
The VEX robot challenge provides students with a standard kit which they then develop into a robot that can progress through an obstacle course to place balls in goals.
The group has had to make design changes from the original plans, according to Barcenas. The robot needed to be more compact and the team also added stability to its lifting arm.
Barcenas said she's been in the VEX robots program two years. She's the only returning student on the team. Both her teammates, Margarita Romero and Ben Rios, are new to the program.
The three students were originally on two different robot teams: the Robo-Nerds and the Gas Pedals. When they combined, the team names were also combined to form the Robo-Nerds and a Pedal.
Although the trip to Anaheim, Calif. for the competition is paid for, Barcenas and Romero are currently raising money for a side-trip to Disneyland. Rios said he already has his ticket to the theme park.
Barcenas plans to continue in robotics when she goes to Sunnyside High School next year. Romero may join the team as well. Rios, a sixth-grader, said he plans to try other clubs and sports in the next couple of years before he gets to high school.