Wednesday, April 16, 2014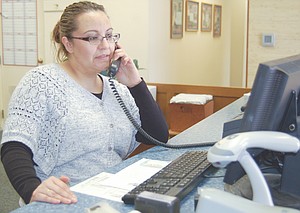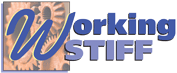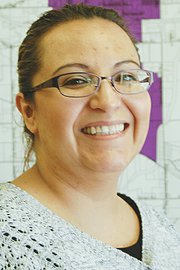 Gina Chavez is often the first person people meet when dealing with the city of Sunnyside.
As the clerk in charge of accounts payable and receivables at city hall, Chavez spends a lot of her time handling bills and answering questions. She strives to provide the best service possible despite a changing environment during her five years with the city.
Chavez was born in Guanajuato, Mexico and lived there until she was 12. Her father was already working in the United States and decided to bring his family to live with him. The family started in Redding, Calif.
"It was beautiful, with rivers and parks," said Chavez. "Then we moved up to Sunnyside in late November."
Chavez initially hated the town, seeing it as a bleak place after the lush California autumn. But she grew to like it so much that when her family moved to Arkansas in her senior year of high school, she begged to be allowed to go back.
"My father told me I could go, but I would have to go alone," she said. "So I got on the bus and came back."
She stayed with a sister to finish out her senior year and graduate with her friends, then stayed in town, getting married and settling down.
She now has three children. Her oldest daughter is 14 and she has two sons ages 12 and 10. Her husband works in construction, which she says can be tough as he's sometimes off at a work site for a long time.
Chavez worked at banks before coming to city hall, learning the ropes starting as a teller and finally earning a position as a personal banker. The experience gave her the perfect background for her work at the city.
When she's not working she likes to exercise.
"It keeps your mind strong, as well as your body," she said. She's been enjoying Zumba for some time and recently took up weightlifting, as well.
"I punched my husband in the arm the other day and he was surprised how much it hurt," she said.
Chavez said she works hard to help people who visit city hall, whether they have questions or just need to pay a bill.
"We are very friendly here at city hall," she said.