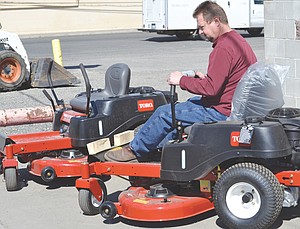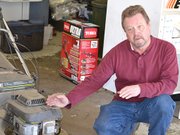 Chilly nights and occasional brisk winds aside, spring has officially sprung in the Sunnyside area with longer days and the mercury already hovering in the 70s.
Of course, that also means there are lawns to cut, gardens to till and seedlings to plant.
It all adds up to what can be a hectic time for Jim Grubenhoff, owner of Harold's Repair and Rental on South Sixth Street.
"I've been here at the shop 37 years and it's always the same thing," he laughs. "From December to February you wonder if there's anyone in Sunnyside, then in March someone flips a switch and suddenly we're two or three weeks behind."
He says tiller rentals are popular to break up the soil for gardens. At the same time, Grubenhoff notes there is a great deal of interest from the public in renting thatchers (for removing dead grass) and aerators (to help water flow through impacted soil).
"A lot of people think thatchers and aerators are the same, but they do different things," he said.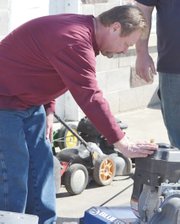 Spring is a time of renewal for do-it-yourselfers, and Grubenhoff's shop both rents and sells equipment ranging from weed eaters to chainsaws.
As for doing repairs, he says the shop services lawnmowers more than any other piece of equipment.
"About 70 percent of lawnmower repairs can directly be related to stale fuel," says Grubenhoff, whose father Harold opened the shop 55 years ago. He notes the increased reliance on ethanol in recent years means gasoline doesn't store as well or for as long as it used to.
In fact, he says at least one major manufacturer no longer warranties repairs to new equipment if it has had fuel stored in the tank for longer than 30 days.
"I know it sounds wasteful, but the best thing to do before you store your mower for winter is to run it until there's no more fuel," Grubenhoff advises.
He also urges consumers to store lawnmowers inside over the winter, noting that melting snow can cause moisture to seep into the engine and cause damage.
Also, Grubenhoff says it's not always a good idea to buy the cheapest mower available when it's time to get a new one. That's because in his experience a more costly mower can pay for itself by lasting decades with proper care and maintenance.
Lastly, he encourages do-it-yourselfers to plan ahead before scheduling a Saturday with friends and family to work on a big lawn or garden project.
"Make sure you have the equipment reserved ahead of time," he smiled. "If you wait until the last second it might not be available."
Wise words from someone who knows all too well that spring time is indeed prep time for a successful lawn and garden.