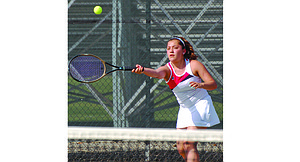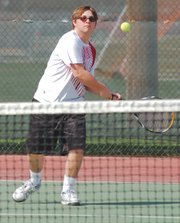 The tennis league opener against Eisenhower was a mixed bag for Sunnyside. The boys squad (1-0, 1-3) managed a solid 6-1 victory, but the girls squad fell 6-1 to the Cadets.
All four of Sunnyside's boys singles players came away with victories yesterday.
At No. 1 singles, Alexis Osuna controlled his match against Martin Martinez, winning back-to-back 6-3 sets.
Sunnyside's Nathan "Iceman" Laverman, the No. 2 singles player, faced some difficulty in his second set after defeating Ike's Chi Lu 6-1 in the first. Lu took the second set by a 7-5 score to force a third set. Laverman was able to take control and close out the match with a 6-0 win.
At the No. 3 spot for Sunnyside, Zach Halma took control early to win quickly, 6-2, 6-0 over Eisenhower's Jaiden Marquis.
Trajen Frank, playing in the No. 4 spot for the Grizzlies, had a long three-set match. Frank lost the first set to Ike's Skylar Anders 7-5, then came back to take the second set 7-5.
"He had some great serves and played to his opponent's weakness," said Sunnyside Coach David Downing. "The three-setter went to tie break due to the length of the match."
Sunnyside's No. 1 doubles team of Isaiah Lyczewski and Michael Yan won in three hard-fought sets, 4-6, 7-5, 6-3.
"They used good strategies and play over their opponents," said Downing.
At the No. 2 spot, Cody Parke and Alex Rodriguez were aggressive at the net, barely losing the second match, to pull out a 6-3, 6-7(3-7), 6-1 win.
The No. 3 Grizzly team of Bryce Murphy and Christian Murphy showed solid teamwork but still lost in twin 6-3 sets.
"The boys team seemed to click in this first league match," said Downing. "I am proud of their accomplishments."
The Sunnyside girls squad (0-1, 0-4) did not fare as well, with both the No. 1 and No. 2 singles players, Roxy Plancarte and Elexis Lepe, walking away with 6-0, 6-0 losses.
Downing was pleased with the effort of his No. 3 player, Sydnee Hernandez, who was playing her first ever singles match against Ike's Zvza Sochacka. She won in three sets, 6-2, 3-6, 6-3.
"Outstanding!" said Downing. "She's a player to watch."
At the No. 4 singles spot, Lady Grizzly Jasmine Lopez lost in back-to-back 6-1 sets.
"Jasmine had good rallies that went to a score of deuce quite often," said Downing.
Mattie Meyers and Carla Rodriguez played as Sunnyside's No. 1 doubles team and lost in two sets, 6-3, 6-3.
"They tried different plays," said Downing.
The Sunnyside No. 2 doubles team of Karinna Mendoza and Angelica Ceja also lost in two sets, 6-0, 6-1.
At No. 3 for the Lady Grizzlies, Mirella Ramirez and Stephanie Herrera absorbed a loss in the first set, 6-2, then came back for a 6-0 win in the second. In the final set they couldn't take control and lost 6-1 to lose the match in three.
"We are still working on the girls team getting the right combination of talent in the right spots," said Downing. "Wenatchee is tough, I'm looking forward to testing them next Tuesday."
Sunnyside's next match will be on Tuesday, April 15, at Wenatchee.